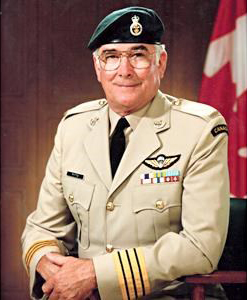 1929 – 2018 
"Herb" Pitts was born in 1929 in Nelson, BC and raised in Castlegar. In 1948, he entered Canadian Services College Royal Roads as a member of the first Tri-Service class.  An all-round athlete, Pitts played on three different representative teams and was the Sports Editor for The Log (college yearbook) in 1950.  This pattern continued at RMC where he captained both the college soccer and basketball teams and continued to hone his military leadership skills, serving as a Cadet Squadron Leader in fourth year.  Upon graduation in 1952, he was awarded the Harris-Bigelow Trophy and the Victor van der Smissen-Ridout Award and was commissioned into the Lord Strathcona's Horse as an Armour Officer. 
Pitts was then deployed to Korea where he served with distinction as a platoon commander with the Princess Patricia's Canadian Light Infantry (PPCLI).  In 1953, he was awarded the Military Cross for heroic combat leadership and his coolness and effectiveness under fire while commanding a night wiring party.  On his return to Canada, he permanently re-classified to Infantry and was assigned to the Queen's Own Rifles of Canada (QOR of C).  Serving tours in Canada, Germany and the U.S., he progressed steadily through the ranks in command and staff appointments, including command of the First Battalion QOR of C in Victoria from 1967 to 1969 and the Canadian Airborne Regiment (CAR) in Edmonton from 1971 to 1973.  He was then posted to Canadian Forces Headquarters in Ottawa, serving in senior operational appointments, culminating with his promotion to Major-General in 1976.  He retired from the Canadian Forces in 1978 with an impeccable record of wartime and peacetime service. 
"Herb" Pitts left the army at 49 years of age and chose to dedicate his life to voluntary public service in senior national, provincial and community leadership appointments.  For over 30 years he organized like-minded people and resources to promote worthy causes that contributed to national development and enriched the lives of countless Canadians from coast to coast.  
Through an impeccable personal example of honesty, loyalty and integrity, Pitts was devoted to mentoring the development of Canadian youth and to fostering the creation of the next generation of leaders.  This was evident in his role as a Life Governor of the Dominion of Canada Rifle Association and as a supporter of Big Brothers and Sisters of Ontario and the Army Cadet League of Ontario.  Most particularly, in over 16 years of voluntary service to Scouts Canada, he served as National President and as both a National and International Commissioner - the only Canadian to have held all three senior scouting appointments.  His accomplishments in promoting scouting have been acknowledged through Scout Brotherhood Awards presented to him by Canada, the U.S. and Korea.  Over the years he also led several campaigns to raise funds on behalf of army regiments to provide bursaries assisting youth to complete their post-secondary education. 
Pitts demonstrated a personal commitment to events that commemorate Canadian heritage.  In 1996, he played a leading role in forming the Korean Veterans Association of Canada and in organizing a fundraising campaign to construct a national memorial in Brampton, ON, consisting of a 200-foot granite Wall of Remembrance.  In 2010, as Honorary National President of the 150th Anniversary QOR of C Organizing Committee, he led the planning of national celebrations in Victoria, Calgary and Toronto. 
Pitts continued to support the armed forces throughout his retirement and, due to his outstanding reputation and exemplary character, was invited to fulfil numerous honorary appointments.  He served as Colonel Commandant of the Infantry Corps, Colonel of the Regiment for the PPCLI, QOR of C and CAR, Patron of the 1st Canadian Parachute Battalion Association and the Canadian Airborne Forces Association and as President of the RMC Club of Canada.  He was made an Honorary Member of the club in 1998. 
Service to Canadian veterans and their dependants was another theme that remained consistent throughout Pitts' life. As Honorary President of the British Columbia and Yukon Command of the Royal Canadian Legion, he led the Command's annual poppy campaign, participated in countless fundraising events and ceremonies and served as a Legion spokesman.  
In his later years, while living in Victoria, BC, the focus of Pitts' volunteer interests shifted to issues related to local veterans and seniors.  He served on the Board of the Tillicum and Veterans Care Society, responsible for the Lodge at Broadmead and its supporting foundation.  As Stewardship Chair for his church, he led all fundraising activities. 
Throughout his life, Major-General Pitts accumulated a magnificent record which includes gallantry in war and public service in peace, all without fanfare or self-aggrandizement.  His legacy of contributions to national, provincial and community activities is representative of the highest standards of leadership and voluntary public service. 
Plaque Inscription:
Soldier, Leader, Volunteer