The army hospital being otherwise committed, on 8 June 1813 plans for "a Naval Hospital on Point Frederick, to contain One Hundred Men" were solicited in the Kingston Gazette. Proposed by Commander Richard O'Conor, RN, and soon built, it was a substantial two-storey wooden-framed hospital, located immediately northwest of the stone structure, now the residence of the Commandant of the Royal Military College of Canada (and previously thought to be the Naval Hospital).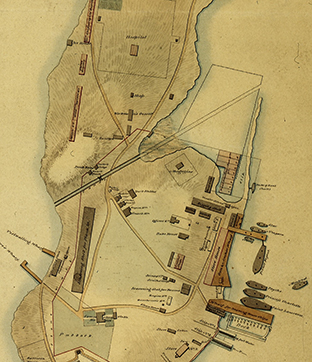 Extract of a contemporary sketch map of the shores and measures in the vicinity of Kingston from a survey by Lieutenant H.L. Renny, RE, and soundings by Acting Lieutenant W. Bayfield, RN. Fortifications and buildings, including the Naval Hospital, are illustrated, as are ships at the dock and the slips.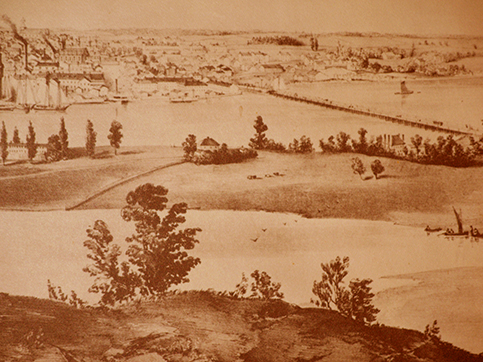 Contemporary sketch of the Naval Hospital from Point Henry with the town of Kingston and the causeway in the background.
Throughout the War the practice of naval medicine was beset with adversity, with requirements on a fresh water lake different from those on the high seas - the sick and wounded could be landed ashore. Surgeons faced almost constant shortages of personnel, supplies, and facilities issues not fully resolved until war's end. The standard of care had a poor reputation, yet in spite of chronic shortages, skilled naval medical officers worked hard to ensure the comfort and recovery of their patients. Diet and increasing awareness of a need for cleanliness were cornerstones of medical care. Regulations stipulated patients were to be provided with the best provisions available, and additional foodstuffs could be purchased locally - receipts from late 1814 indicate these rules were followed closely at Kingston.
Walking Tour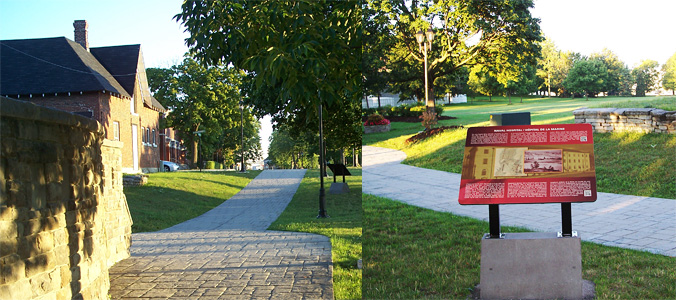 Panel 11 is located approximately 25 m beyond the Wall of Honour (erected by the Class of 1963) on the east side of the path and is sited looking back towards the current Commandant's residence.
Panels navigation