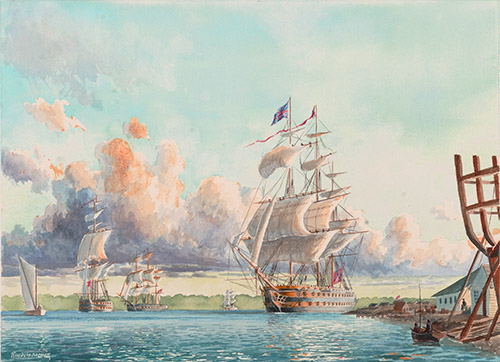 The "Giant", HMS St. Lawrence, rounds Point Frederick and heads into Navy Bay accompanied by Prince Regent, Princess Charlotte, and Netley Sep 1814.
Come and walk the ground where this glorious ship, the only Royal Navy first-rate ship of the line ever to be launched and operated entirely in fresh water, was built. Her keel was laid on 12 April 1814 and two sister ships Wolfe and Canada were still under construction when the war ended.
This walking tour begins at Panet House on the grounds of the Royal Military College of Canada near where the slips on which these magnificent ships were built were located. There are 13 stations, including the Historic Sites and Monuments Board of Canada monument, created in 1937 in memory of those officers and seamen of the Royal Navy and Provincial Marine, and of the officers and soldiers of the Royal Marines, Royal Newfoundland, King's (8th) and 100th Regiments who served on Lake Ontario in defence of Canada 1812-14.
Panels navigation