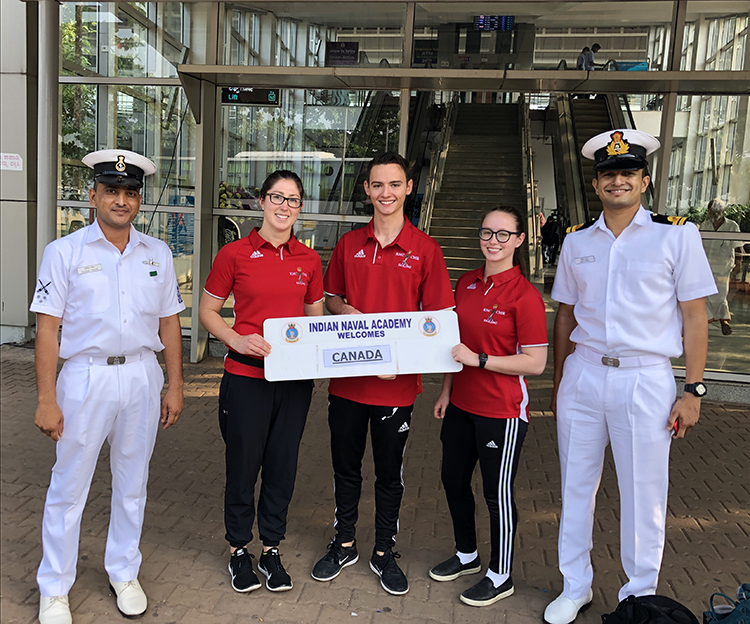 This past December, NCdts Justine Garneau and Nicholas Bell traveled more than 50 hours to Ezhimala, India, to compete in the Admiral's Cup Sailing Regatta. They competed alongside representatives from 30 other countries. The competition was hosted by the Indian Naval Academy and took place in Ettikulam Bay from December 2 to 6.
NCdts Bell and Garneau were selected from RMC's sailing team out of 35 officer cadets to compete in this ninth edition of the regatta. Neither Bell nor Garneau had experience sailing the Laser Radial Sailing boats but enjoyed the competition nevertheless. Both cadets speak about how enriching and exciting the opportunity was. Garneau says the event "made me a more confident sailor and reaffirmed the choice I made when I joined the forces."
Likewise, the international experience is what Bell took from the event.
"This was an amazing experience where we made new friends in navies from across the globe, making connections that will serve us through our careers," said Bell. "We had the opportunity to represent the Royal Canadian Navy on the world stage which is an experience that I never expected to have only three years into my time in the Navy."
Teams from each country consisted of two naval cadets, one male and one female, under the age of 25. The races were divided into an initial and final series. All teams initially sailed in six races formed up in two groups, with one boat from each country placed in each group. On completion of the initial series, the top half of each group formed the gold fleet and sailed four races in the final series. The 'Admiral's Cup' and the 'Runners Up Cup' was awarded to the top two teams in the championship on the basis of the combined performance of both boats. In addition, individual medals were awarded in the men's and women's category.