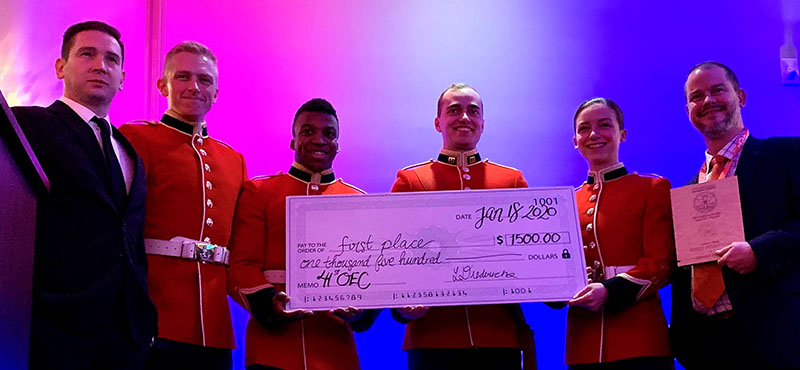 Engineering students from the Royal Military College of Canada (RMC) took top honours this year at an annual design competition for engineering students from Ontario universities.
RMC, represented by 10 officer cadets, competed in the Junior Design, Senior Design and Debate at the 41st Annual Ontario Engineering Competition held at the University of Guelph, January 18-19
RMC's Senior Design Team placed first overall, beating 13 teams from other Ontario universities. Each team was required to design and build a scissor-lift vehicle that could autonomously navigate a track and lift a half-kilogram weight. Scoring for the event evaluated each team's design presentation and a task trial for their vehicle.
RMC's team consisted of OCdt Gregory Hoornweg (third-year Aeronautical Engineering), OCdt Sophia King (third-year Aeronautical Engineering), OCdt Zachary Roche (third-year Electrical Engineering) and OCdt Caleb Woodburn (third-year Computer Engineering). Their win qualifies them to participate in the Canadian Engineering Competition, March 6-9 at the University of Manitoba.
For more information about the Ontario and Canadian engineering competitions, visit: Ontario Engineering Competition and Canadian Engineering Competition.