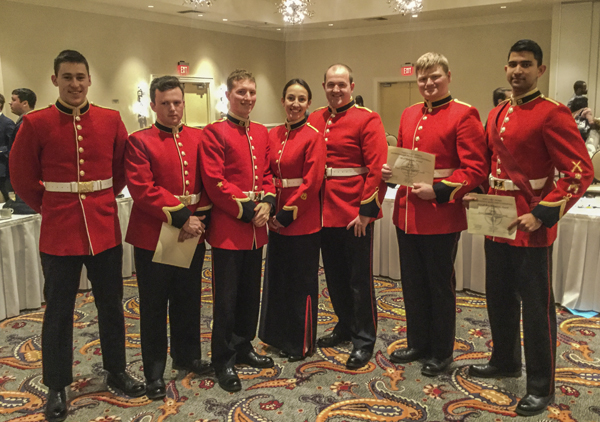 Royal Military College of Canada team participants pose with their awards at the conclusion of The Howard University Model NATO conference in Washington, DC. The total number of university participants was 167 from Belgium, United Kingdom, Canada, and the United States.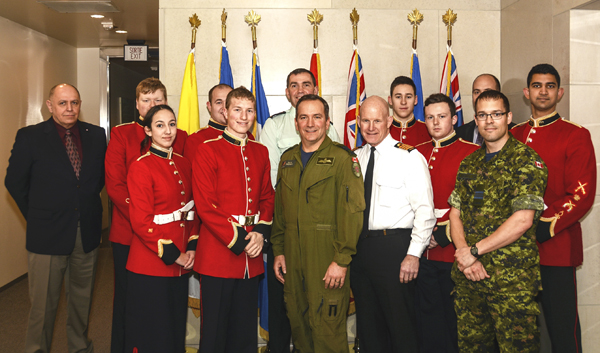 Howard University, Converse College, Kent State University, and the Lemnitzer Center for NATO and European Union Studies, in collaboration with Embassies of NATO member states in Washington, DC, sponsor an annual simulation of the North Atlantic Treaty Organization. This year, seven RMC cadets [OCdt Milo Beattie (26958), OCdt Scott Blair (27132), OCdt Danielle Fielding (27476), OCdt Travis Fryxell (27294), OCdt John Jacob (26583), OCdt Daniel McCall (27087), and OCdt Tristan Thomson (27443)] participated in the 31st Annual International Model NATO Conference involving students from 27 different universities from Europe, Canada and the United States during the period 11-14 February 2016. The Model allows participants to gain a better understanding of the capabilities and constraints that shape the policies of NATO countries in determining matters of collective defence.
Normally, each university delegation is assigned to represent a member state chosen at random. The RMC delegation was selected to represent our own country this year. This presented the participating cadets with a unique opportunity to learn more about Canadian policy, outside of a classroom setting, when they visited the Canadian Embassy in Washington, DC. The cadets were provided with an in depth understanding of various Canadian policy positions while at the embassy, and then applied this knowledge while in the Model NATO simulation.
During the entire conference, the RMC cadets worked together as a unified team, even though they were assigned to separate committees, supporting each other whenever possible. This allowed the RMC team to come out on top, winning the award for Best Delegation, along with many others listed below. The RMC International Affairs Association would like to thank all donors who aided in the funding of this trip, as it was more than just a trip but also an exceptional learning and leadership experience.
Individuals Awards won:
OCdt John Jacob (NAC):

Committee Leadership Award and Best Delegate Award

OCdt Daniel McCall (PCSC):

Best Delegate Award

OCdt Scott Blair (MC):

Committee Leadership Award and Best Delegate Award

OCdt Tristan Thomson (NPG):

Committee Leadership Award and Outstanding Delegate