1.Welcome to the start of your postgraduate studies at RMC. This package contains administrative information that has been collated to help you quickly settle-in and should be useful for the duration of your program.
2. Chain of Command
Being a military post graduate student, you report to two separate chains of command: academic and military. This relationship is illustrated in Figure 1.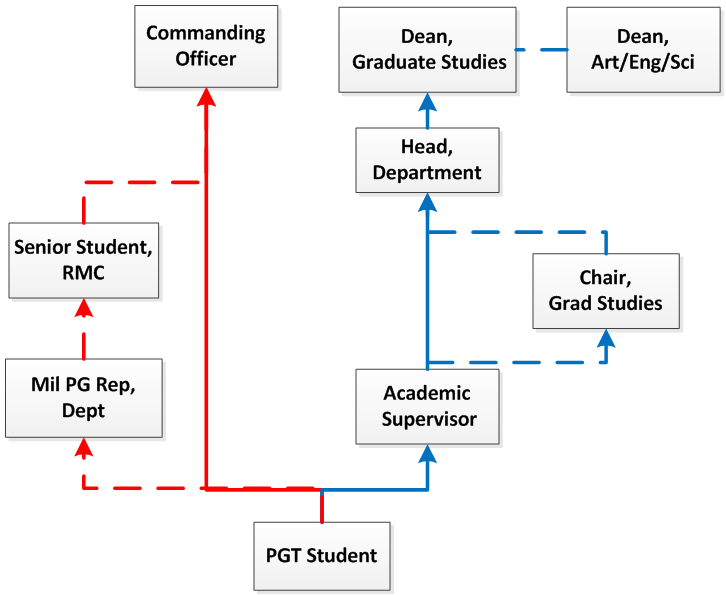 Figure 1. Organizational chart: Post Graduate Training Student reports to Military Postgraduate Representative (Department), and Academic Supervisor. Military Postgraduate Representative reports to Senior Student (RMC). Senior Student reports to Commanding Officer. Academic Supervisor reports to Department Head and Chair of Graduate Studies. Chair of Graduate Studies reports to Department Head. Department Head reports to Dean of Graduate Studies as well as Dean of the Faculty of Social Sciences and Humanities, Engineering, or Science.
The academic chain consists of your academic supervisor, your Department Head, and the Dean of Graduate Studies. Your academic supervisor will function as your immediate supervisor and you are expected to report to your academic supervisor for the conduct of your school work. Because civilian professors are likely not involved with military Wing activities, military events such as parades and PERs will be coordinated by the Senior Mil PG with the help of Department Mil PG Reps. Ultimately, as a PG student, your CO is Col Dencsak, CO PG & MILFAC. Terms of Reference of the PG Senior Student, Dept Rep and those of the Senior Student Committee can be found on the Graduate Studies Website.
3. Leave Pass
The approving authority for weekend and annual leave will be your Department Head. Requests for short, special, compassionate and out of country leave must be approved by the CO. In all cases, the recommending authority should be your academic supervisor. Depending on department policy, you may have to submit the electronic version of the leave pass. As per common practice in most CF units, you are expected to manage your leave and consume it all within the fiscal year.
4. Dress of the Day
All military PG students will wear appropriate elemental work dress (3b) throughout the week. CADPAT is authorized for students conducting laboratory or field work at the discretion of their Department head. Civilian clothes may be worn at night, during weekends or when attending classes at Queen's.
5. Office Arrangement and Supplies
Your department has assigned an office/cubicle area to you. For military members, office supplies such as paper, pens erasers, binders, etc. can be obtained from your respective department. There also exists an annual allocation of approximately 100$ that can be used to purchase PPNS not available in your respective department.
6. College Information Services (CIS)
The CIS section provides support to the departments via departmental CIS reps. Every department has a staff member who has been assigned this duty. If you need CIS support, see your department rep for guidance through the process. You can get CIS information directly from their website on the college intranet.
7. Office Computers
Every PG student will be issued a departmental computer for use in his/her office.
8. E-mail and DWAN Accounts
Your network account is used for e-mail correspondence throughout the college. Unlike many other military units, your e-mail account does not provide you with access to the DWAN. You can arrange to migrate your DWAN account to RMC at the same help desk. As most offices within the college do not have DWAN drops, accessing your DWAN account will probably mean finding a DWAN terminal whose location is most convenient for you.
9. RMC Wireless Network
For coverage and connection details, see the CIS website.
10. Telephone Services and Voicemail Accounts
Your office will contain at least one phone, which you will likely have to share with your office mates. CIS looks after in-service support requests for the phone (e.g. connection problems). In all likelihood, you'll be assigned an office that is already partially occupied. If this is the case, then your phone should already have a voicemail account and you'll have to obtain the password from your office mate. If this is not the case, then call 4468 to have a voicemail account activated. A link to the user guide for the voicemail service is provided on the CIS website
11. Other useful information regarding telephone services is as follows:
for calls within RMC or the base, simply dial the four-digit extension;
for outside, local call dial "89" followed by the ten-digit number;
for CSN access dial "86"; and
for long distance commercial calls dial "89" followed by "1", and the ten-digit number.
12. Request for Reimbursement of Books
Instructors for your respective courses and/or thesis will identify suggested and required textbooks for your courses. The policy for reimbursement of textbooks is explained in section 4.02 of the DMCARM guide mentioned in the previous para. Read through this section and be sure the instructor intends to support your request for reimbursement before you make the purchase. You may do so by having him/her sign the book reimbursement request form before you actually buy the book (this form is available at Annex C of the DMCARM Subsidized Education Guide found found on the CMP DWAN (cmp.mil.ca) at /en/recruitment-careers/education-programs/index.page .
Note: Links in the DMCARM Subsidized Education Guide are DWAN addresses, so you will not be able to access them from the RMC Intranet.
13. Selecting and Registering for Courses
Each graduate student must register for courses each term (ie fall, winter and summer). Some problems may arise when applying for graduation if one has neglected to register for a term. Registration procedures and deadlines are explained in detail in Chapter 5 of the Graduate Studies and Research Division Calendar, which should be read carefully. The calendar can be accessed on the RMC Intranet site and hard copies can be obtained from the registrar's office. Registration forms can be found on the RMC Portal. Courses at Queen's can be taken as part of your course requirement, but keep in mind that at least 50% of your courses must be from RMC. A link to the Queen's visiting student registration form is on the home page of the PG Student Corner website, under "Other Documents."
14. Maps of the RMC and Queen's campuses
Maps of the RMC and Queen's campuses can be found at the following links:
15. Courses
Unlike undergraduate courses, departmental schedules for most PG courses are not finalized until the first or second week of the semester because scheduling requires de-conflicting the unique timetables of graduate students from different programs. Your Thesis Supervisor may have some course recommendation and fellow students who have taken the course can provide you with useful information. Be sure to contact the designated instructor for each course to learn more about the intended subject matter to be covered and to inform him/her of your intention to register for the course, if that is the case.
16. Secondary Duties for PG Students
PG students will be required to complete a limited number (i.e. usually one to two) of secondary duties throughout the year. Typically, such duties will include supervising various undergraduate laboratories, assisting VIP's at RMC and/or participating in college-wide activities such as the annual leadership symposium. The PG Senior Student will coordinate the distribution of these secondary duties amongst the PG student body. Furthermore, PG students are expected to assume the role of Duty Field Officer (DFO), for Majors and Lieutenant-Commanders,  several times during the academic year. Tours for DFOs usually average 2 weeks/year and tours for OOD are normally 3-5 days/year.
17. Parades
Military PG students are also expected to attend College parades such as Graduation parade, First year cadets badging parade, change of command parades, as well as Commandant's Town Halls.
18. Miscellaneous
A link to an "Incoming Student Checklist" is on the home page of the PG Student Corner website, under "Other Documents";
Your RMC ID card doubles as an access key for many doors at the college;
To obtain a parking pass you will need to present your driver's license, vehicle ownership and proof of insurance;
As with all other military personnel, you are required to complete a Forces Test on an annual basis.