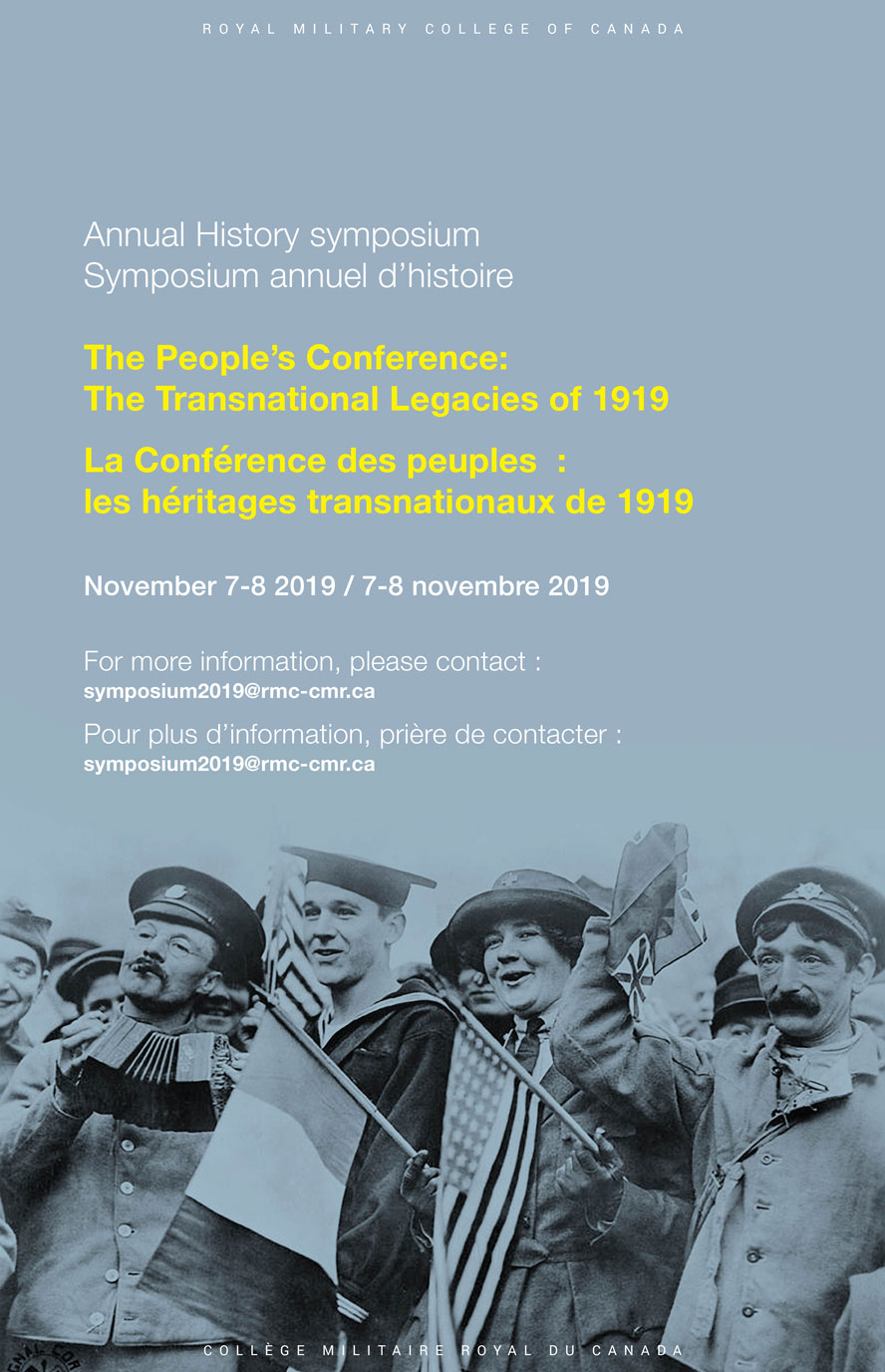 Appel à communication / Call for Papers
The People's Conference: The Transnational Legacies of 1919.   La conférence des peuples : les héritages transnationaux de 1919.
Royal Military College of Canada, Kingston (Ontario)
November 7-8 2019
Annual History Symposium
On the hundredth anniversary of the world changing Paris Peace Conference and of the Treaty of Versailles, the Department of History of the Royal Military College of Canada is hosting a conference to examine their impact on transnational and international movements and institutions. Most scholarship to date has focussed on what happened in Paris in 1919 from the perspective of the coming of the Second World War, and on the inability of the Treaty of Versailles and of the League of Nations to prevent a second global conflagration. Only recently has more attention been paid to the explosion of international and transnational institutions and organizations created in aftermath of 1919. The Paris Peace Conference was the first international conference to draw upon the input of individuals and private groups, while others met in parallel conferences to discuss what was happening or should be happening within the halls of Versailles. In that sense, Paris 1919 opened the door to popular participation in global treaty making that continues to this day. 
The organizing committee solicits proposals for papers on the short and long term legacies that the Paris Peace Conference (1919) has had on international and transnational movements and institutions over the past century. Areas of study might include, but are not limited to:
International, transnational, non-governmental organizations ;
Human Rights ;
Disarmament and Rules of Armed Conflict;
Veterans' Rehabilitation/Demobilization;
Human migration (Refugees, Sanctuary);
Peace (including peacekeeping and peace enforcement) ;
Gender and international peace and security;
Memory and memorials.