Collections:
Massey Library is located in the Massey building. The collection includes approximately 250,000 books and 1,200 journals, plus 1,800 audio-visual items, in both English and French. Subject areas include:
Business
Chemistry and chemical engineering
Civil engineering
Computer science and engineering
Economics
Electrical engineering
English literature
Environmental sciences
French literature
History
Mathematics
Mechanical engineering
Military history
Military science and engineering
Nuclear science and engineering
Oceanography
Physics
Politics
Psychology
Space sciences and technology
Strategy
There is also the Spurr Military Collection, an extensive collection of books which cover all aspects of military studies. The library's rare book collection contains a variety of unique historical diaries, books, manuscripts, and other works of value, generally of a Canadian and/or military nature. The Reginald E. Watters Memorial Collection includes first editions of nineteenth and twentieth-century Canadian literature, with particular emphasis on works which reflect military and wartime experience. The Crerar collection is a collection of holdings from various public, government, and military libraries in Germany that was assembled at the end of World War II, covering a variety of subjects. This collection also includes technical pamphlets from the three branches of the German military, as well as technical and geographic maps. The RMC Archives include personal papers of former RMC professors and prominent military figures, and historical papers and documents that pertain to RMC, such as old photo albums of cadets, and so on.
The library's main floor houses the library's collection of engineering and military science books (call nos. TA403-Z), as well as the library's reference and journal collections. Recent issues of journals and daily newspapers are available in the reading area. The collection of newspapers on microfilm, plus the microfiche collection, is found in this area. The microfiche collection covers mainly military and history topics, including Canadian history.
The library also offers collections of technical documents originating from:
A collection of course outlines (Schaum's, etc.) is available. Ask at the Circulation Desk.
On the second floor, the library's regular collection of politics, history, religion, philosophy, economics, sociology and psychology books (call nos.: A-JS) are located. In Rm. 214 there are scientific and technical journal issues (call nos. Q-T) prior to 1991. The Leadership Library Collection (French only), presented to RMC by the Class of 1956, has a prominent place in the Leadership Collection Reading Room, Rm. 201.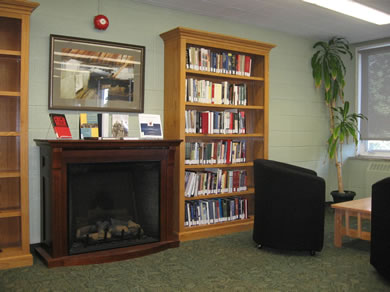 In the basement there is the rest of the library's collection, which covers subjects such as political science, law, music, art, literature, science and engineering (call nos.: JV-TA402). On this floor there is also the microfilm collection of primary sources.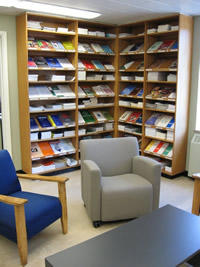 This includes government reports and documents from Great Britain and the U.S. concerning countries and time periods of historical interest, plus the papers of some U.S. presidents and other persons of note. In room 30 there is the government documents collection, which has mainly Canadian federal government publications and some provincial publications.
Facilities:
The main floor of the library has 4 look-up stations (for quick access to the internet) and 8 computer stations. Patrons can read the latest journals and newspapers in the Reading Area. Two photocopiers, a spiral binding machine, and a microform reader/printer are available. To return or sign out materials, come to the Circulation Desk. For research help, come to the Reference Desk.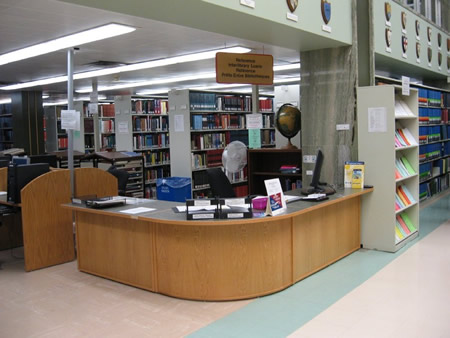 On the second floor there is a computer lab with 20 laptops, as well as a Leadership Reading Room with space for reading/studying and group work. DWAN computers and a printer are available for authorized users. The Writing Centre is also on this floor, and offers tutorials and workshops to assist students with the writing process.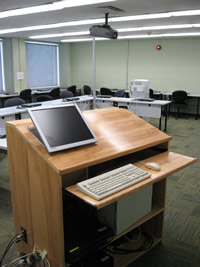 All computers and laptops offer access to the web, are equipped with standard software such as MS Office, Acrobat Reader, and Adobe Acrobat Professional, and are connected to printers. A colour printer as well as a PC with a scanner are available on the main level. Wireless connection is available on the main and second levels.
In the basement there are study carrels and 2 computers, as well as one quick look-up station.
Selection
To suggest an item for purchase, please speak to your departmental library representative:
Video about the Massey Library
Alternate formats