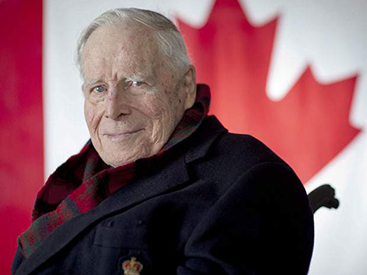 By Kyle Sinon, St. Lawrence College
"It was basic heraldry. White and red is considered the most powerful combination in heraldry. That's why the Canadian flag has the brightest red and the starkest white. It had to be that way."
Those were John Matheson's words during an interview last June, as he described the colour scheme behind the most iconic accomplishment of his life: our national flag. John Matheson passed on Dec 27, 2013 at the age of 96.
Matheson was acknowledged in the Memorial Room of City Hall in Kingston, during a celebration of Canada's first prime minister, Sir John A. MacDonald. Known for attending the ceremony each year, Matheson, who later became fundamental in the design of our national flag and symbol of unity was honoured by a moment of silence. On the wall the flags hung proudly reminding attendees of its humble beginnings.
Major General Eric Tremblay, the Commander of the Canadian Defence Academy and Brigadier General Al Meinzinger, Commandant of RMC were also on hand with a small guard of cadets to acknowledge his dedication to his country and to RMC.
John Ross Matheson began his life in Arundel, Quebec on November 14th of 1917, a few days after the historic battle of Passchendale of WWI. A fitting beginning for a man of distinguished history with the Canadian Armed Forces: starting with his enlistment as a Gunner in the 57th Field Battery RCA of Quebec City, Matheson would go on to receive military training and guidance at RMC while he studied law at nearby Queen's University.
An active supporter of RMC and a regular fixture at many of the college's ceremonial events, Matheson was known to be seen ripping across the Lasalle Causeway on his electric scooter just to attend. Despite his advanced age, Matheson was known for his sharp wit and wasn't afraid to point out "nerds" or cadets he observed behaving improperly. Upon his graduation from Queen's in the spring of 1940, he was commissioned to serve in the 1st field Brigade RCA.
Gino Bruni, an escort of Matheson's for the 2009 reunion weekend recalls his interaction with the "Judge" fondly.
"There was a march past the Wall of Honor by the ex-cadets. I was instructed to bring Judge Matheson to the wall and there was supposed to be some high ranking officer or ex-officer there to take the salute during the march past. Unfortunately, that person didn't show up and Judge Matheson was in the right place at the right time. He became the officer to be saluted! He didn't mind one bit," said Bruni.
After suffering a serious head injury in the Italian campaign of the Second World War, Matheson met his future wife Edith (nee Bickley). Edith, who was a radiologist's assistant at the Montreal hospital where Matheson made his post-war recovery, was fascinated with the intricacies of his head injury, which involved the permanent intrusion of six pieces of shrapnel in his skull. Matheson would go on to make an extraordinary recovery and marry Edith with whom he raised six children.
Ron Matheson, a retired CAF lieutenant-colonel and John's son remembers his father's outlook on life.
"It's the way he lived his life. I've said this to my brothers and sisters: I think he somehow had a pact with providence. He didn't expect to live through that [war experience]," said Ron Matheson in the January 9th issue of Kingston This Week.
Upon his recovery, Matheson would go on to become a MP for the former riding of Leeds for several successive parliaments before becoming a judge in the judicial district of Ottawa-Carleton. After serving in honorary capacities for the 30th Field Regiment RCA for 10 years, Matheson retired from the forces as a Colonel in 1982.
During his career as MP of Leeds, Matheson was leader of the bi-partisan parliamentary committee that developed the current Canadian flag design, in which his heraldry experience played a major role.
Not only was Matheson an integral part of the creation of our nation's flag, but he also played a key role in the development of the Order of Canada of which he became a recipient himself in 1994.
"The idea of the order of Canada was that there would be great people held up, Canadians of all stripes, not just bureaucrats, judges, generals and politicians" said Matheson.
A man of law, military and public service, John Matheson will be remembered not just as a title or name, but as a distinguished and patriotic Canadian, for generations to come.