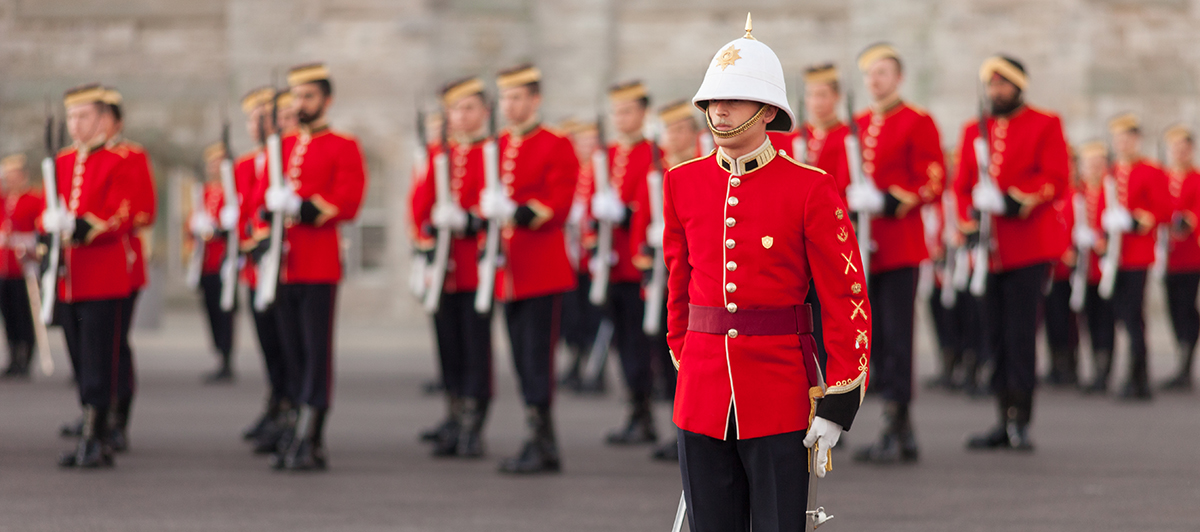 Introduction
As a parent or guardian of a current or future Naval/Officer Cadet (N/OCdt), this handbook is an ideal source for you to learn about the unique academic, linguistic, fitness and military environment of the Royal Military College of Canada (RMC).
This handbook is a useful source of information about the culture, and environment of RMC  and is a great starting point for discussions with your daughter or son about their experience  as part of RMC and the Canadian Armed Forces (CAF). Additionally, you will read about RMC's history and our services to enable your child to succeed. Lastly, there is contact information should you need or want to get in touch with your daughter or son.
Your daughter or son has chosen a unique, formative and personal experience to achieve their undergraduate degree and serve our country. By joining the CAF, your daughter or son is joining a family and a team that is dedicated and committed to serving our great nation by projecting and protecting Canadian ideals. While your daughter or son is at RMC, we will guide and teach them the required life and career skills they need to be effective officers in the CAF. Our approach, to creating Military Officers, is built upon Four Pillars: academics, military related skills and knowledge, physical fitness and bilingualism. To graduate as a commissioned officer, they must meet the minimum requirements of the four pillars.
Your daughter or son will have many opportunities to learn how to lead and will receive feedback from trained educators, evaluators and mentors. They will learn how to receive, accept, provide and apply feedback to help them develop leadership skills.
RMC undergraduate students typically enrol through the Regular Officer Training Plan (ROTP). Successful applicants to RMC begin their careers in the CAF as a N/OCdt and upon graduation and completion of specific military training move on to their selected profession. One of the many advantages of attending RMC is that the Department of National Defence (DND) pays  the costs for tuition, uniforms, books, instruments and other essential fees while paying the student a salary and providing benefits. In return, your daughter or son agrees to serve a  period of compensatory service post-graduation.
N/OCdts receive an annual salary from which there are deductions for income tax, pension  plan and room and board. Medical, dental, and paid vacations are automatic no-cost benefits of being part of the CAF. RMC also provides academic support services, fitness and life style coaching, mental health counselling, medical services etc. Our smaller class sizes and overall number of students allows us to be more responsive to the academic and personal needs of our students. Professors are encouraged to actively engage with the students academically and to gauge the students overall well-being.
Your daughter or son has a slightly different Cadet Handbook which contains additional information that will guide them during their time at RMC. Their handbook helps them to understand the CAF and will help them to live and work in the RMC/CAF environment.
We expect that the information contained in this booklet will inspire additional questions.   If you have any questions or suggestions for content, please speak with the liaison staff   or advise us at liaison@rmc-cmr.ca. If you wish to receive additional information or have suggestions for content that could be incorporated into this handbook please contact the RMC Success Centre at SuccessCentre-CentredeSucces@rmc-cmr.ca
Four pillars of success at RMC










Important information about my N/Ocdt (to print)
| Important information | My N/OCdt's information |
| --- | --- |
| N/OCdt's College number |   |
| N/OCdt's Squadron number |   |
| Squadron Commander's name |   |
| Squadron Non-Commissioned Member's Name |   |
Important Dates
| Event | Date |
| --- | --- |
| Arch Ceremony Arrival at RMC |   |
| First Year Orientation Program start |   |
| Academic First Day |   |
| First Year Orientation Program end, Obstacle course, badging parade |   |
| Family Weekend - Reunion weekend |   |
| Battle of Britain Parade |   |
| Indigenous Leadership Opportunity Year start and badging date |   |
| Physical fitness testing session 1 |   |
| Thanksgiving Break |   |
| 200 days to graduation (4th year celebration) |   |
| Remembrance Day Parade |   |
| Concert in Scarlets |   |
| Fall Exams |   |
| RMC Talent Show |   |
| Christmas Concert |   |
| Winter Ball |   |
| Festive Holidays (Dec) |   |
| 100th night (4th years count down) |   |
| West Point Weekend |   |
| Physical fitness test session 2 |   |
| Spring Study break |   |
| MOC Weekend |   |
| Environmental Preparation Training |   |
| Winter Term Exam Period |   |
| Graduation week |   |
| Iron Ring Ceremony |   |
| Varsity Awards Ceremony |   |
| Battle of the Atlantic Parade |   |
| Deadline: Class Ring Order |   |
| Deadline: Graduation Announcements and Invitations Sent |   |
Glossary
Environments:
The CAF is divided into three major groupings based on the land, sea or air elements; these are the environments. Based on the graduate's profession they are assigned to one of the three environments and provided with the appropriate uniform. There are personnel, typically in support occupations such as medical, and logistics who wear one environmental uniform, and serve in one of the others.
N/OCdts:
N denotes Naval while the OCdts is Officer Cadets. The Canadian Army and the Royal Canadian Airforce opted to keep the term Officer Cadets as part of their language and rank structure. Naval Cadets and Officer Cadets are the same rank just expressed with respect to CAF traditions.
Notes
This handbook has been assembled to provide you with information that we think that you might want   to know. Everyone has different requirements and familiarity of the environment and therefore different information needs. Your feedback and suggestions for additional content is welcome and appreciated.
Please send your feedback to liaison@rmc-cmr.ca
This publication is available in both official languages.
RMC Campus Map