The Royal Military College's Annual Physics for Defence Lecture 2023 will be presented in Sawyer Theatre (S 1303) by Dr. Shiliang (Dan) Shan on 6 April 2023, 10:00 - 11:00.
Public Lecture: "Operational Ocean Prediction: Using Physics to Forecast the Ocean's Future".
Contact: LCdr Steve Semenuk steve.semenuk@rmc.ca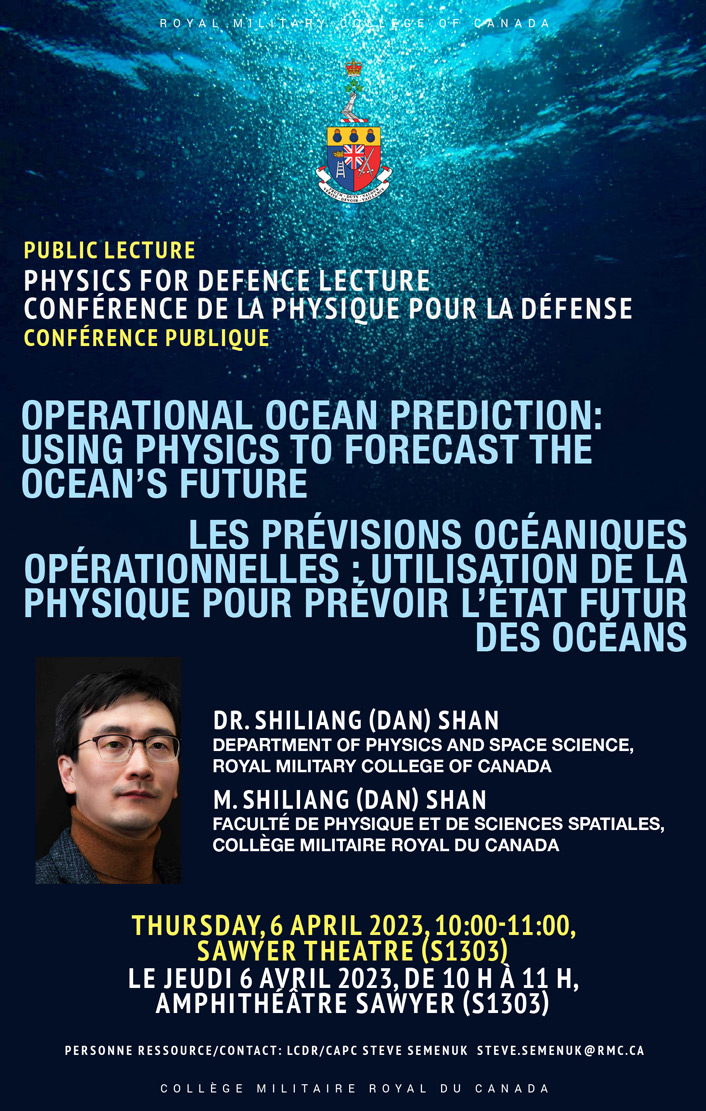 Abstract:
Operational ocean prediction has become increasingly important in recent years due to the growing demand for accurate and timely information about ocean conditions. This presentation will introduce the basics of operational ocean prediction, including physical oceanography, numerical modelling, and data assimilation techniques. The challenges associated with operational ocean prediction, such as the difficulty of obtaining accurate and reliable oceanographic data and the limitations of current modelling techniques will be discussed. Some practical applications and real-world examples of operational ocean prediction, including marine weather forecasting, environmental monitoring, and search and rescue operations will also be discussed. This presentation will be of interest to anyone who would like to learn about the challenges as well as opportunities involved in predicting ocean conditions in particular, and the ever-evolving ocean science in general.