Ambassador Kirsten Hillman: Doctor of Laws - honoris causa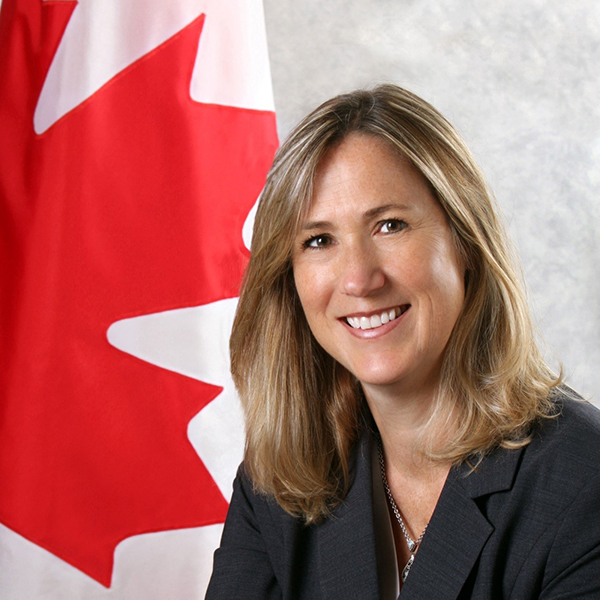 Kirsten Hillman was appointed Canada's Ambassador to the United States of America in Washington D.C. in March 2020, the first woman to serve in this position. 
As Deputy Ambassador from August 2017 to August 2019, Ambassador Hillman was deeply involved in the negotiations to modernize the North American Free Trade Agreement (NAFTA).
Prior to joining the Embassy, Ambassador Hillman held the position of Assistant Deputy Minister of the Trade Agreements and Negotiations Branch at Global Affairs Canada, overseeing all of Canada's trade policy and trade negotiations. She also served as Canada's Chief Negotiator for the Comprehensive and Progressive Agreement for Trans-Pacific Partnership (CPTPP), one of the most visionary and progressive trade agreements implemented to date.
Through her twenty-five-year career with the Government of Canada, Ambassador Hillman has held various positions both at home and abroad. She served for many years as senior trade counsel, representing Canada in NAFTA investor-state dispute settlement and at the World Trade Organization (WTO), and served as Senior Legal Adviser at the Permanent Mission of Canada to the WTO in Geneva.
Before joining Global Affairs Canada, Ambassador Hillman practised law in Montréal and at the Department of Justice in Ottawa.
Ambassador Hillman grew up in Calgary and Winnipeg and holds a Bachelor of Arts from the University of Manitoba and a Bachelor of Civil Law as well as a Bachelor of Common Law from McGill University.
Ambassador Hillman has made an important contribution to the CFC's National Security Programme (NSP), and by extension, to RMC's Master of Public Administration. During several engagements with the NSP in recent years, both in Ottawa and Washington, Ambassador Hillman greatly impressed students and faculty alike with her strategic approach to the Canada-U.S. relationship and her enthusiasm for this partnership. In short, she has made a very positive contribution to the NSP's goal of developing a community of Canadian national security practitioners.