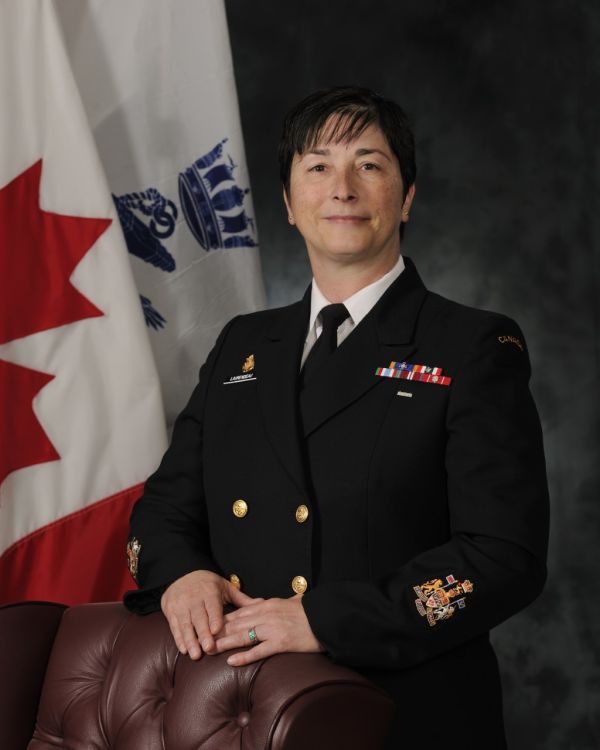 CPO1 Laurendeau MMM, CD
CPO1 Laurendeau joined the Canadian Armed Forces (CAF) on 2 March 1993 in Quebec, as a Naval Acoustic Operator (NACOP). She proceeded to attend recruit training at Canadian Forces Leadership and Recruit School (CFLRS) in Saint-Jean-sur-Richelieu. Upon completion of her basic training and languages school, she then completed her trades training at CFB Esquimalt and was posted to HMCS Annapolis in December 1993.
Throughout her career, CPO1 Laurendeau served from OS NACOP to CPO2 while on board several Canadian Patrol Frigates (CPF) Halifax class named: Ottawa, Calgary, Vancouver, Algonquin, and Winnipeg. She served at Acoustic Data Analysis Center detachment Pacific and recruit instructor at CFB Esquimalt and CFLRS. She was also an Area Cadet Advisor (ACA) at the Regional Cadets Support Unit (Pacific), training coordinator for the Lessons Learned for the CAF at the Canadian Forces Warfare Center in Ottawa, and Chief SONAR OP at the Canadian Fleet Pacific.
CPO1 Laurendeau is a graduate of the Officer Professional Military Education programme (OPME), Defence and Security Certificate programme from Algonquin College and holds a Bachelor of Military Arts and Science (BMASc) from the Royal Military College (RMC) in Kingston, Ontario. She was appointed to the Order of Military Merit in 2014.
From April to June 1994, CPO1 Laurendeau was deployed to HMCS Annapolis in Haiti. From June to October 1998, she served on the Naval Boarding Party team on the HMCS Ottawa (part of the USS Abraham Lincoln Carrier Battle Group) in the Persian Gulf for the United Nations embargo on Iraq. In May 2009, she was promoted to Petty Officer 1st class and took part of a SOUTHPLOY on board HMCS Calgary where she held the duties of senior SONAR OP. In May 2014, she served as Coxswain for HMCS Edmonton & Saskatoon.
In 2017, while attending the RMC in Kingston, she was selected as a representative for the Royal Canadian Navy on the year-long NCM Executive Professional Development Programme (NEPDP).
In 2018, she joined HMCS Calgary for the fourth time and deployed as the Operations Chief for OP Projection. Promoted to her present rank in May 2019, CPO1 Laurendeau is very honoured to hold the position of being only the second Training Wing Chief Petty Officer (TWCPO) at the Royal Military College of Canada.
CPO1 Laurendeau enjoys playing, coaching and officiating hockey and spending time at the gym. She gives back to her community through various volunteer organizations including the St. Johns Therapy Dog programs and various child/youth associations. She is a strong advocate of fitness having a role in the morale of all CAF members.