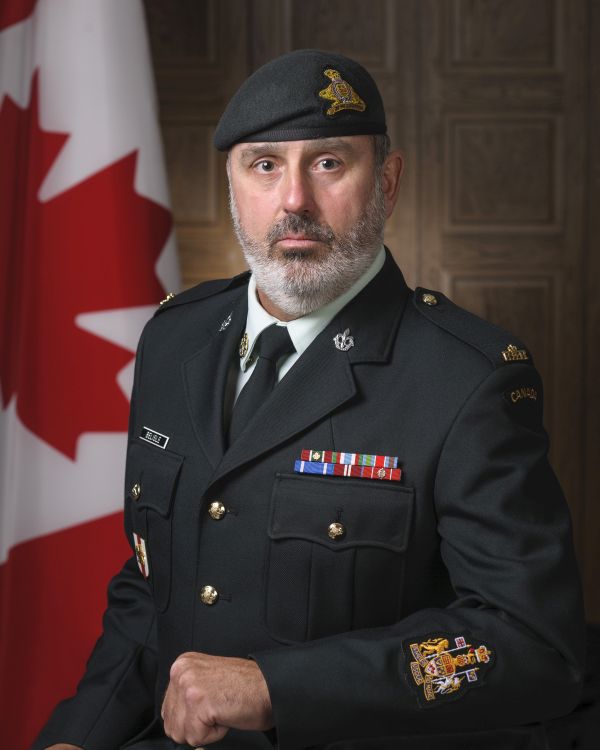 CWO Belisle J.P.C. MMM, CD
CWO Belisle joined the Canadian Armed Forces in 1989 as part of the Primary Reserves at "Le Régiment du Saguenay," where he completed several basic courses. He served in this unit for 8 years and transferred to the Regular Force in 1997.
Over his 32 years of service he served in multiples units such as 1 and 2 batallion R22eR, Canadian Manoeuvre training Center Wainwright, 2 Div Instruction Center, Chief Warrant Officer Robert Osside Institute and as the Quarter Master Sergeant Instructor at CFLRS. 
He served twice in Bosnia in 1993 and 2002 and in Afghanistan in 2004 and 2010. He also served on 3 domestic operations, OP Unique in Goose Bay Labrador, the Flood in Winnipeg and the Ice Storm in Montreal.
CWO Belisle was promoted to his current rank and appointed to the TWSM position at RMC in July 2020.
He is member of the Order of Military Merit since 2020.
He is married to Valérie Pelletier, they have two children. Marjorie 24 years old, and Vincent 20 years old.
CWO Belisle likes to play hockey as well as running, cycling and golfing.