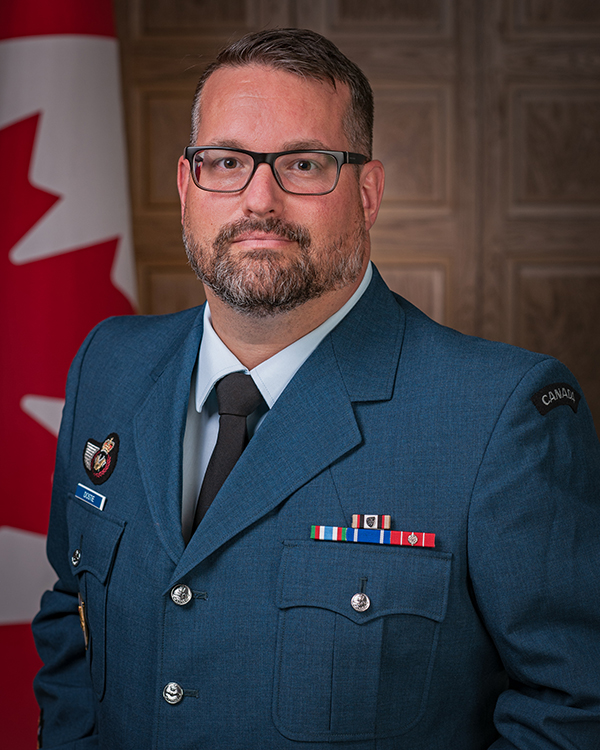 J.E.J.P. Dostie, CD
Born in Québec City, QC, CWO Dostie joined the Canadian Armed Forces in June 1998 as a Radio-Teletype Operator with the Reserve Electronic Warfare Squadron. As a reservist, he was also employed with 430 Tactical Helicopter Squadron and 1 Wing HQ, serving internationally on Operation Palladium in Bosnia and Herzegovina in 1999 and 2000. In May of 2003, he transferred to the Regular Force as a Communications research, now known as Signals Intelligence Specialist. Following his training, he was posted to CFS Leitrim in 2004 as a collections systems operator.
In 2007, CWO Dostie was promoted to Master Corporal and deployed onboard HMCS Charlottetown during Operation ALTAIR in South-West Asia as a Tactical Receive Segment operator. Following this deployment, he was posted to the Canadian Forces School of Communications and Electronics in 2008 as a QL3 instructor and course director. In 2011, CWO Dostie was promoted to Sergeant and selected for recruiting duties at the Canadian Forces Recruiting Detachment in Corner Brook. Promoted to Warrant Officer in 2014, he was posted once more to CFS Leitrim as a Duty Watch Officer and Troop WO.
In 2016, CWO Dostie was selected for an Outcan position with the US Navy Naval Information Operations Command-Hawaii and seconded to the National Security Agency. He was promoted to Master Warrant Officer in 2017 and selected for a posting at the Canadian Forces Leadership and Recruit School as a Training and Standards Division Sergeant-Major. In 2021, CWO Dostie was posted to the National Capital Region in his current position as J3 Ops Coordinator for the Canadian Forces Information Operations Group.
MWO Dostie is pursuing his studies towards a bachelors of business administration and is a student affiliated with the "Ordre des administrateurs agréés du Québec".  He is married to Geneviève Bellemare and they are the proud parents of a 7-month old boy.