CWO Robert Keating, CD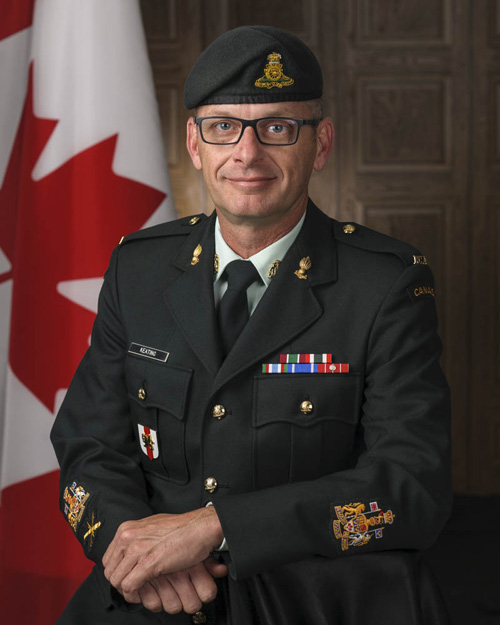 Chief Warrant Officer Keating joined the Canadian Armed Forces on 10 Jan 1989 in London, Ontario as an Air Defence Artilleryman.  After completion of RCA Battle School, he was posted to 128 Air Defence (AD) Battery (Bty) 4th AD Regiment (Regt) in CFB Baden-Soellingen West Germany.
In Sep 1993, CWO Keating was posted to 119 AD Bty at CFB Chatham, New Brunswick and posted to CFB Gagetown in 1995. In September 2001, CWO Keating deployed to Bosnia-Herzegovina on Op PALLADIUM for a six-month tour of duty employed as an Infantry section, second in command (2IC) with the 3 R22R.  In August 2003 he was promoted to the rank of Sergeant.
He deployed as Troop Sergeant Major of TF 1-07 in Afghanistan with the Tactical Uninhabited Air Vehicle (TUAV) and promoted to WO in July 2008.  Promoted to MWO in July 2013 and shortly thereafter posted from the Royal Canadian Artillery School to 4 AD Regt as Battery Sergeant Major (BSM) of 127 Bty.  In Jun 2015 MWO Keating was posted to CFB Kingston Ontario as Developmental Period  4 - Staff Officer, Non Commissioned Member Professional Development (NCMPD), Canadian Defence Academy. Promoted to his present rank in June 2017, CWO Keating was selected for his present position of Training Wing Cheif Warrant Officer, Royal Military College of Canada.
CWO Keating enjoys playing and coaching hockey, hunting, fishing, and the shooting sports along with spending time with his family.