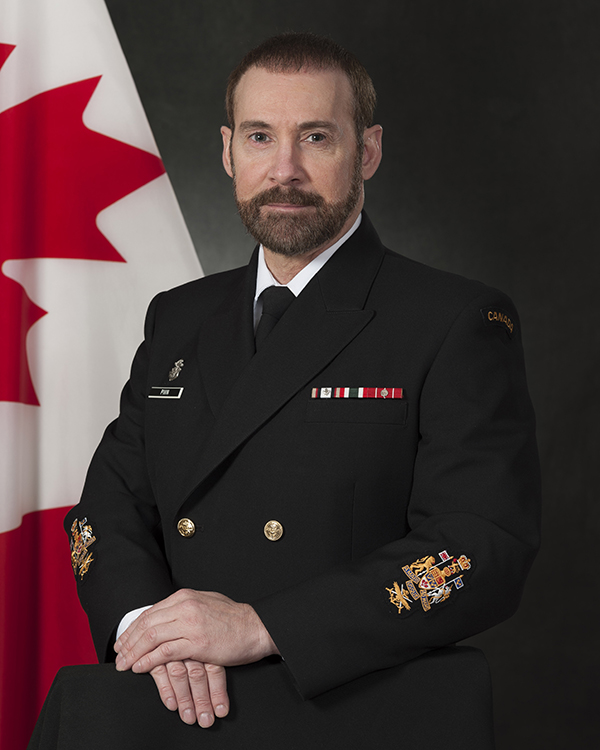 Chief Petty Officer 1st Class (CPO 1) Marion Pivin enrolled in the Canadian Forces as a Naval Electronics Technician Acoustic in August 1987.
After completing basic and trade training, he joined in August 1988 his first ship Her Majesty's Canadian Ship OTTAWA as a Sonar operator/maintainer. CPO 1 Pivin has also served on HMCS VILLE DE QUÉBEC as a maintainer/supervisor, HMCS ST-JOHNS during OP Apollo as the 2 I/C of the naval boarding party team and HMCS CHARLOTTETOWN as the Combat System Engineering Department Coordinator.
His postings ashore include Canadian Forces Naval Engineering School Halifax as an Instructor, Canadian Forces Fleet School Quebec as Course Director for the Primary Leadership Qualification course and Canadian Forces Leadership and Recruit School St-Jean as a Division Sergeant-Major.
On promotion to CPO 1 in July 2010, CPO 1 Pivin was posted to Ottawa as an analyst for the Director General Canadian Forces Grievance Authority. In July 2011, he was posted to the Royal Military College Kingston for a year of academic studies as part of the NEPDP program.
In June 2012, CPO 1 Pivin was appointed Coxswain HMCS VILLE DE QUÉBEC, September 2013 Coxswain HMCS CHARLOTTETOWN, December 2013 NAVRES HQ/PAC Chief Petty Officer. In July 2016, he was appointed to the office of the Deputy Judge Advocate Quebec region and in July 2019, CPO 1 Pivin was appointed Royal Military College CWO.