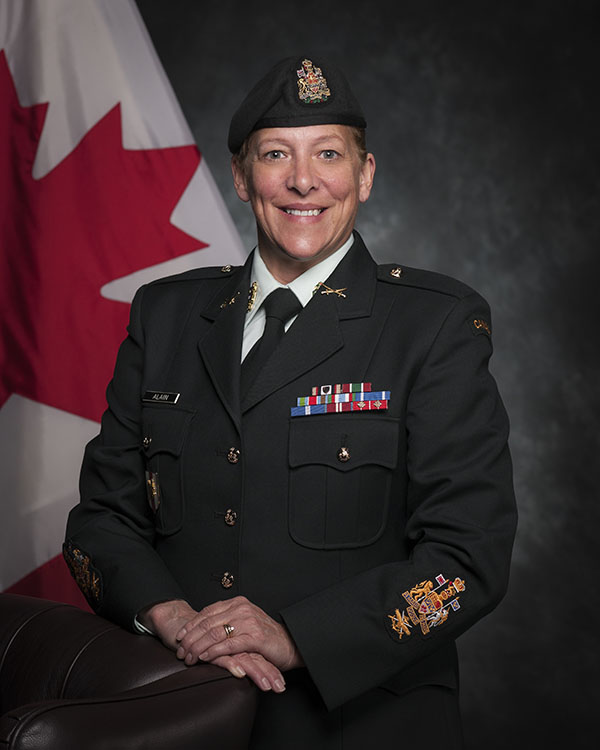 CWO Lucie Alain
Chief Warrant Officer (CWO) Lucie Alain was born in Beauceville, QC.  She joined the Canadian Armed Forces Primary Reserve in May 1987 as an Administration Clerk with the Régiment de la Chaudière. During her Reserve service, she participated in Fallex 1989 (West Germany) and the Oka Crisis, where she met her future husband. 
In March 1991, after completing the Laboratory Technologist course at CEGEP Ste-Foy, she transferred to the Regular Force as a Medical Laboratory Technologist. Upon completion of her basic recruit training, she was promoted to the rank of Corporal and posted to the Canadian Forces Hospital Valcartier.  She deployed on Op Cavalier, Visoko, Bosnia-Herzegovina in 1993. In August 1995, she was posted to CFB St-Hubert Medical Clinic, then posted to the National Defence Medical Centre in Ottawa and was appointed Chief of Laboratory Services at before returning to Bosnia-Herzegovina with Op Palladium in October 1998. She was promoted to the rank of Sergeant in 2002 and returned to Bosnia-Herzegovina for a third time.   
In 2006, she deployed with Task Force Afghanistan as part of Op Archer to stand up the medical laboratory capability with a multinational team. Upon her return, she was promoted to the rank of Warrant Officer and posted the Canadian Forces Health Services Centre (Atlantic) in Halifax. Posted to Canadian Forces Health Services Centre (Ottawa) in 2007, she served as the Laboratory Team Leader and Laboratory Regional Warrant Officer (Central), as well as serving as the Primary Care Senior Non-Commissioned Member. In 2010, she deployed for a second tour to Afghanistan with Op Athena as a member of the Role 3 Multi-National Medical Unit. Upon her return, she was posted to 2 Field Ambulance in Petawawa.
Promoted to the rank of Master Warrant Officer in 2012, she was posted to Canadian Forces Health Services Group Headquarters as the Medical Laboratory Technologist MOSID Advisor.
She was promoted to her current rank in 2016 and was appointed Training Centre CWO at Canadian Forces Health Services Training Center. In July 2019, she was appointed Royal Canadian Medical Services and Branch CWO. In July 2021 she is appointed as the RMC Kingston, College CWO.
CWO Alain serves as the Vice-President on the Board of Directors of the Canadian Society of Medical Laboratory Science. CWO Alain lives with her husband, Glenn Vallée, and they have 2 children Phillip and Mélanie.