During the entire War of 1812, Canadian, British, and American land and naval forces campaigned across a vast territory from the Mississippi Valley, through the region south of Montreal, and well into the territories of the Atlantic coast. But the conflict's outcome would be determined, in particular, by events on and around the Great Lakes. For the Anglo-Canadian Forces, the St. Lawrence River and Lake Ontario was the strategic linkage for manpower and vital supplies for all inland points including the provincial capital, York, the Niagara Peninsula, and further garrisons west. Control of Lake Ontario would give crucial advantages in initiative, surprise, movement, and re-supply.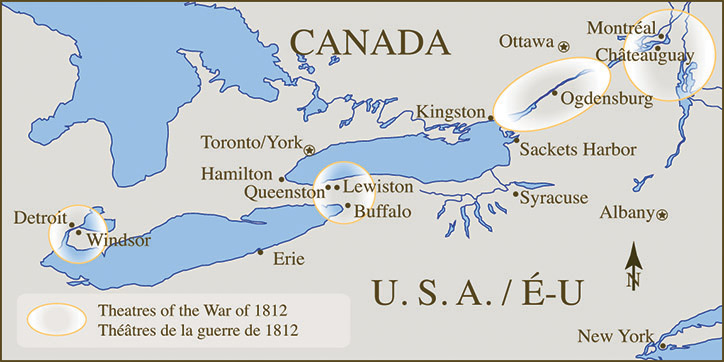 Map of the theatres of war of 1812 around Lake Ontario, with the locations of Windsor, Queenston, Hamilton, Toronto/York, Kingston, Ottawa, Montreal, and Chateauguay indicated on the Canadian side, and Detroit, Erie, Buffalo, Lewiston, Syracuse, Albany, Sackets Harbor, Ogdensburg and New York indicated on the U.S.A. side.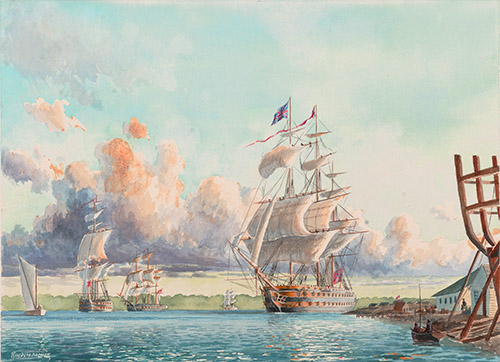 "Return of the Giant". HMS St. Lawrence, rounds Point Frederick and heads into Navy Bay accompanied by Prince Regent, Princess Charlotte, and Netley Sep 1814. Painting courtesy of the artist, Peter Rindlisbacher and the owner, Dr. S. Southmayd.
During the war, British naval operations on the Lake Ontario were centered here at Point Frederick, at the confluence of the St Lawrence and Cataraqui Rivers at Lake Ontario. In 1812, the Provincial Marine operated only four vessels armed with 20 short-barreled guns. After May 1813, when the Royal Navy units under Commodore Sir James Yeo took command of the facility, it grew rapidly. At the end of 1814, the Kingston Dockyard produced the largest naval Squadron on the Great Lakes, with 1,600 personnel serving on the massive flagship St. Lawrence, on four other ships, and four smaller vessels totalling 518 guns.
Walking Tour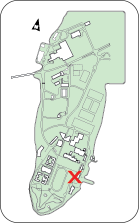 Panel 1 is located in front of Panet House (15 Point Frederick Drive) on the eastern side of the Point and relates the importance of the Point and Naval Dockyard during the War.