In November 1812, guns of the original fort here were fired against American ships attacking Kingston. Perhaps this attack came as retaliation for the earlier Canadian one on Sackets Harbor, but more likely American commander Chauncey felt his squadron sufficiently strong to destroy Anglo-Canadian power on the lake and centered at Kingston. But that failed, giving the British Army the opportunity to build here a new, more powerful battery of 6 and 9 pounder guns with a 45-foot square blockhouse.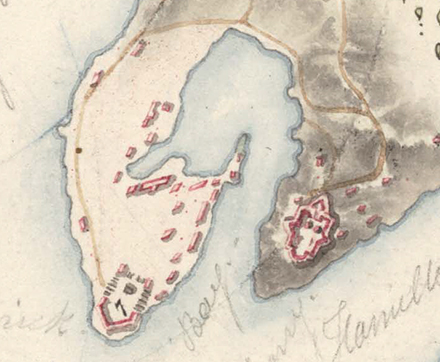 Contemporary sketch map of Navy Bay, Point Frederick, and Point Henry, illustrating the fortifications on each point.

Battery action from a painting of the Royal George in Battle Off Kingston depicting Royal Artillery gunners firing on the American fleet. Courtesy of the artist, Peter Rindlisbacher.
Supporting buildings at the tip of Point Frederick provided protection for the blockhouse which stood on the approximate location of the Fort Frederick Tower, constructed in 1846 and preserved today as the Museum of the Royal Military College. Additional batteries and fortifications were established on Point Henry and fortified outposts were built on Amherst and Snake Islands, Lemoyne Point and Lake Ontario Point to control the approaches to Kingston harbour, but these guns were never fired in action.
Walking Tour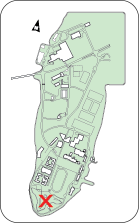 Panel 6 is located a little further into the Fort, just below the battery at the tip of the Point. A battery located in this area fired on the American ships that were attacking the Royal George in November 1812.
Panels navigation