July 2023
The Royal Military College of Canada
The Royal Military College of Canada (RMC) is located in Kingston, Ontario, on the site of one of the most strategically important sites of the War of 1812, the Kingston Naval Dockyard. Here, as they have since 1876, Naval/Officer Cadets receive military, academic, physical fitness, and bilingualism training and education over four years, leading to a commission as a Second Lieutenant/Acting Sub-Lieutenant in the Canadian Armed Forces (CAF) and an undergraduate degree in one of the three academic fields of study: Social Sciences and Humanities, Science or Engineering.
Arrival
With some exceptions, Cadets will attend Basic Military Officer Qualification (BMOQ) Mod 1 at the Canadian Forces Leadership and Recruit School (CFLRS) in St Jean prior to arriving at RMC. You may have two weeks of leave following BMOQ Mod 1, depending on when your course ends. You will then report to the Kingston Military Community Sports Centre (KMCSC/CFB Kingston base gym) 11 Navy Way, Kingston, ON K7K 7B4, between 1000-1200 hrs on 20 August 2023 and participate in the First Year Orientation Period (FYOP) and begin your first academic year.
The Memorial Arch Parade
RMC specific training commences with the Memorial Arch Parade. As Cadets march through the Memorial Arch, it ceremonially marks their entrance into RMC. Upon successful completion of the Regular Officer Training Program (ROTP), the graduating junior officers will march out through the Memorial Arch, signifying their completion of the ROTP and their entrance into the Royal Canadian Navy, Canadian Army, or Royal Canadian Air Force.
This parade will commence at KMCSC in the afternoon on 20 Aug 23 and conclude on the RMC parade square. Friends and family are invited to watch as the Class of 2027 passes under the RMC Memorial Arch. They will, however, not be allowed to proceed further than the Arch and will therefore not witness the conclusion of the parade on the parade square.
First Year Orientation Period (FYOP)
FYOP is your introduction to life as a Cadet at RMC and is a demanding and memorable experience. During the period of 20 August to 16 September 2023, you will learn everything that you need to know to function as a Cadet while at RMC, develop teamwork skills and esprit de corps as well as hone your leadership abilities.
During this period you will be confined to the peninsula and your ability to maintain constant and regular contact with your friends and family may be curtailed. If you are married and joining RMC as a First Year Cadet keep in mind that living off the campus is not an option. During FYOP, you will be required to reside 24 hours a day, 7 days a week on the RMC Campus. You must have any personal or administrative issues dealt with and a Family Care Plan in place before you depart for training at RMC.
Component Transfers (CT)/Previous Military Service
If you are an incoming N/OCdt with previous CAF Regular or Primary Reserve Force service you will be posted by Enrolment or Transfer Posting (ETP) Instruction to RMC. You will report with all other Candidates on 20 August 2023 in accordance with the arrival procedures below.
You will participate in the Memorial Arch parade and FYOP. It is imperative that you clear out of your Reserve Unit as soon as possible and well in advance of arriving at RMC. You are advised to order anything you need from your Logistik Unicorp account as soon as possible to ensure that you have it in hand prior to your arrival. You are required to retain your uniforms, particularly CADPAT operational dress, as it will be required throughout ROTP at RMC.
Preparing for Training
Your recruiting center or your current unit, should have given you an overview of the training you are about to start. It is essential that you be ready, focused and motivated. Before you start:
Avoid any major financial or contractual commitments that may require your attention during the program. Ensure that your personal and family administration is in good hands before your departure and for the entire duration of FYOP;
Prepare yourself physically, and adopt a healthy lifestyle with a regular physical training program.
If your medical condition changes, advise your recruiting center or your unit, as soon as possible.
Should you have any outstanding legal obligations or commitments, you need to resolve and identify these to your recruiting center or your unit as soon as possible and prior to departing to RMC Campus. 
Arrival Procedures
All ROTP Naval and Officer Cadets will arrive at the KMCSC between 1000-1200hrs on 20 Aug 23. It is essential that you organize your transport to meet this timing. Your friends and family will not be permitted to remain at KMCSC after your arrival but will be invited to return at 1300hrs to say goodbye, listen to the RMC Commandant's address and witness the start of the Memorial Arch parade.
A box lunch will be provided to you upon your arrival.
UTPNCM
Members will be met at the KMCSC at CFB Kingston at 1200hrs on 20 August 2023. Family and friends will be allowed to meet with members at Kingston Military Community Sports Centre only (KMCSC) and not before 1300 hrs.
Directions to RMC Kingston
Detailed instructions on how to get to RMC can be found at Annex A – Arrival Procedures.
Dress
You will travel to Kingston in civilian clothing and change into uniform after arriving at the KMCSC. You must have the following pieces of uniform/equipment in your possession upon arrival in Kingston:
CADPAT combat uniform including N/OCdt rank badge, belt and brown t-shirt
Issued boots or purchased if eligible and boot bands
Beret with tri-force (CAF) cap badge; no other cap badge is permitted except for UTPNCM personnel
Rain jacket
Patrol pack (day bag)
Military Values
During your training, you will be required to adhere to the fundamental military values of Duty, Loyalty, Integrity, and Courage, as well as RMC's values of Truth, Duty, Valour. You will be expected to demonstrate these values at all times.
Expected Behaviour
Harassing, sexist, racist, or discriminatory behaviour contradicts CAF values and will not be tolerated. Violators may face disciplinary and/or administrative measures up to release from the CAF.
Policy on Learning Disability Accommodation
Learning disability accommodations may be requested in accordance with Defence Administrative Orders and Directives (DAOD)  5516-5 Learning Disability Accommodation during  Recruiting, Training and Education. All accommodations must be approved by Director Personnel General Requirements (DPGR) and shall be based on a Psycho-Educational Assessment completed by a qualified professional.
Policy on Alcohol, Cannabis and Drug Consumption
Upon your arrival at RMC, possession and consumption of alcohol and cannabis is not permitted until at least after the completion of FYOP. Additionally, any activities linked to illegal drugs (possession, consumption, commerce, etc.) are not tolerated. Violators may face disciplinary and/or administrative measures up to release from the CAF. More details regarding the acceptable use of alcohol and cannabis will be provided during FYOP.
Prohibited Articles
The following articles are prohibited:
Prohibited weapons in accordance with the Criminal Code;
Firearms and ammunition cannot be stored on RMC property. Alternate arrangements must be made prior to arrival at RMC for storage.
Restricted Materials
All electronic devices (cellular phones, MP3 players, tablets, laptops, etc.) are considered restricted materials throughout FYOP in the following manner:
no devices can be used/carried during training hours unless directed by your staff; and
cell phone use is restricted to specific periods only.
Parking
RMC First Year Cadets will have restricted access to their vehicles during the FYOP. All vehicles must be registered with RMC Parking Services.
You must have a valid driver's license, proof of ownership and proof of insurance to register your vehicle at RMC. Do not leave these documents in your car once you arrive in Kingston.
Services Available
You will have access to the following while at  RMC:
Chapel (Protestant and Roman Catholic) and Inter-faith Room;
ALOY – Indigenous Elder and Lodge
Internet
A general store (CANEX) with dry cleaning service;
Barber
Banking facilities (ATMs for BMO); and
Post Office.
RMC Mailing Address
Please direct and mail to the following address:
Officer Cadet (insert first and last name)  
Royal Military College of Canada  
PO Box 17000, Station Forces  
Kingston, Ontario K7K 7B4
Emergency Contacts
In case of an incident warranting the attention of the CAF prior to your arrival at RMC, contact your current unit (CFRC, CFLRS or PRes unit) chain of command or duty personnel. If the incident may affect your ability to arrive at RMC on time on 20 August 2023, also contact the RMC Duty Officer at (613) 483-3024.
In case of difficulty during your travel to Kingston, including if you expect to be delayed, contact the arrival duty personnel at 613-541-7697.
Visitors
Visitors will not be permitted on campus. 
Kit List
RMC will become your primary residence and you will need to come with enough clothing to be comfortable through all four seasons. The dress code at RMC is strictly enforced and specific clothing will be required depending upon the activity. A kit list is provided in Annex C as an example only. You may choose to bring more clothing as required, keeping in mind that storage at RMC is limited.
Those who have already been issued military kit must arrive with military equipment listed in Annex C to this document. Items on the list not previously issued will be issued upon arrival.
Baggage
Your unaccompanied baggage that was shipped from CFLRS Saint-Jean will be available to you on your first day at RMC.
Individuals travelling to RMC directly from recruiting centres or PRes units must use their entire baggage allotment on their method of travel before seeking reimbursement for excess baggage. N/OCdts travelling from PRes units or recruiting centres may request commercial shipping form their unit.
Rations and Quarters
RMC Cadets will be living on campus throughout their time at RMC. The cost of rations and quarters will be taken off your pay automatically. The costs associated with Quarters varies depending on the building you live in. Rates can be found at the College Orderly Room (COR) upon request.
Required Documents and Items
The following documents are required upon arrival:
If flying commercial airlines, members must have documents with them and not in checked baggage.
Certified copies of Diplomas. Cadets must bring final official transcripts that indicate you have graduated from high school. You cannot start academic classes without submitting an official transcript to the Registrar;
Birth Certificate and Certificate of Canadian Citizenship or Certificate of Naturalization if you were born outside of Canada. You must also have one at least one official document with your photo (drivers license, health card, passport);
Vaccination booklet;
CF 100 – Leave Request Authorization provided by Recruiting Center or previous unit;
CF 742 – Emergency Contact Notification and  
DND 2587 – Next of Kin Identification from Recruiting Center;
Social Insurance (SIN) card;
Void cheque (for pay purposes);
Non-medical masks.
Personal Computers:    

Desk Top/ Laptops may be brought for use in the dorm rooms. Should you not currently own a personal computer, one can be purchased through the on campus CANEX. Internet connections are available in each room and the costs are included in your monthly accommodation fees.
The military has specific rules regarding the use of computers both in the dorms and the workplace.  Each candidate must carefully follow these rules to avoid disciplinary and/or administrative sanctions.
The following documents are required only if applicable:
medical prescriptions;
eyeglass prescriptions (prescribed within last year);
birth certificates for any dependents (certified true copy);
marriage certificate (certified true copy);
affidavit respecting your common- law relationship (original);
certificate of divorce (certified true copy);
proof of name change (certified true copy);
proof of change in medical status;
reimbursement of moving expenses (DND 1654), provided by your recruiting center or PRes unit; and
Driver's license, vehicle registration and proof of insurance.
COVID-19
As COVID-19 continues to be a public health concern, RMC is dedicated to protecting its students and staff. RMC has adopted a force protection posture based on guidance from federal and CAF health agencies as well as from the local chain of command.
If you suspect that you have COVID-19, always follow guidance issued by your local public health agency.
If you have COVID-19 symptoms in the days leading up to your arrival at RMC, conduct a rapid antigen or PCR test. If the results are negative, you may travel to Kingston.
If the results are positive, stay at your current location and follow local health agency direction regarding isolation. You may only travel to RMC when you are symptom free and have a negative rapid antigen or PCR test result.
If you believe that your COVID-19 symptoms will prevent you from arriving in Kingston on time on 20 Aug 2023, contact the RMC Duty Officer at (613) 483-3024.
Masks are required inside buildings at RMC. Ensure you arrive with disposable/reusable masks.
Arrival Procedures
All members of the Class of 2027 are required to arrive at the Kingston Military Community Sports Centre (KMCSC) between 1000-1200 hrs on 20 August 2023. If you attended BMOQ at CFLRS, you may be travelling to RMC from a leave location and all travel arrangements will be an individual responsibility. If you were on leave and choose to depart from CFLRS, there will be a bus departing the morning of the 20 Aug. If you graduate BMOQ 1, you may still arrive on your own means at your own costs. However, the loss will also be available from CFLRS for direct transport at no cost. There will be an opportunity to identify which method of transportation you intend to take near the end of BMOQ 1.
Individuals who are Component Transfers or did not attend CFLRS will have their travel to Kingston arranged by their PRes unit or CFRC.
Do not attempt to enter the RMC campus as you will be refused entry by the Commissionaires. Your arrival point, KMCSC, is found on the opposite (north) side of Highway 2.
Individuals should travel in civilian clothing and will be given an opportunity to change into CADPAT combats upon arrival at KMCSC.
Arrival Location
Kingston Military Community Sports Centre (KMCSC)
11 Navy Way, Kingston, ON  K7K 7B4
Personal Motor Vehicle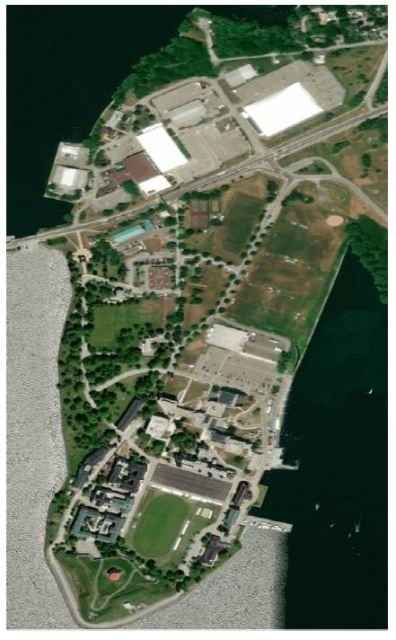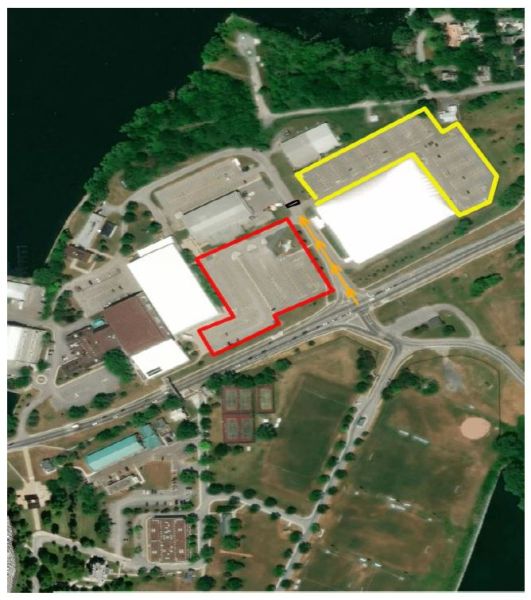 If you are arriving with your own vehicle which you intend to keep at RMC, you will first report to the KMCSC to check-in and unload you luggage and you will then be given instructions to move your vehicle to the parking lot between Rutledge Hall and the Canadian Forces School of Communications and Electronics on CFB Kingston between VB31 and VC31. You will not have access to your vehicle for the duration of FYOP. Ensure that you take your vehicle registration and insurance documents with you as they will be required to register the vehicle with RMC parking services.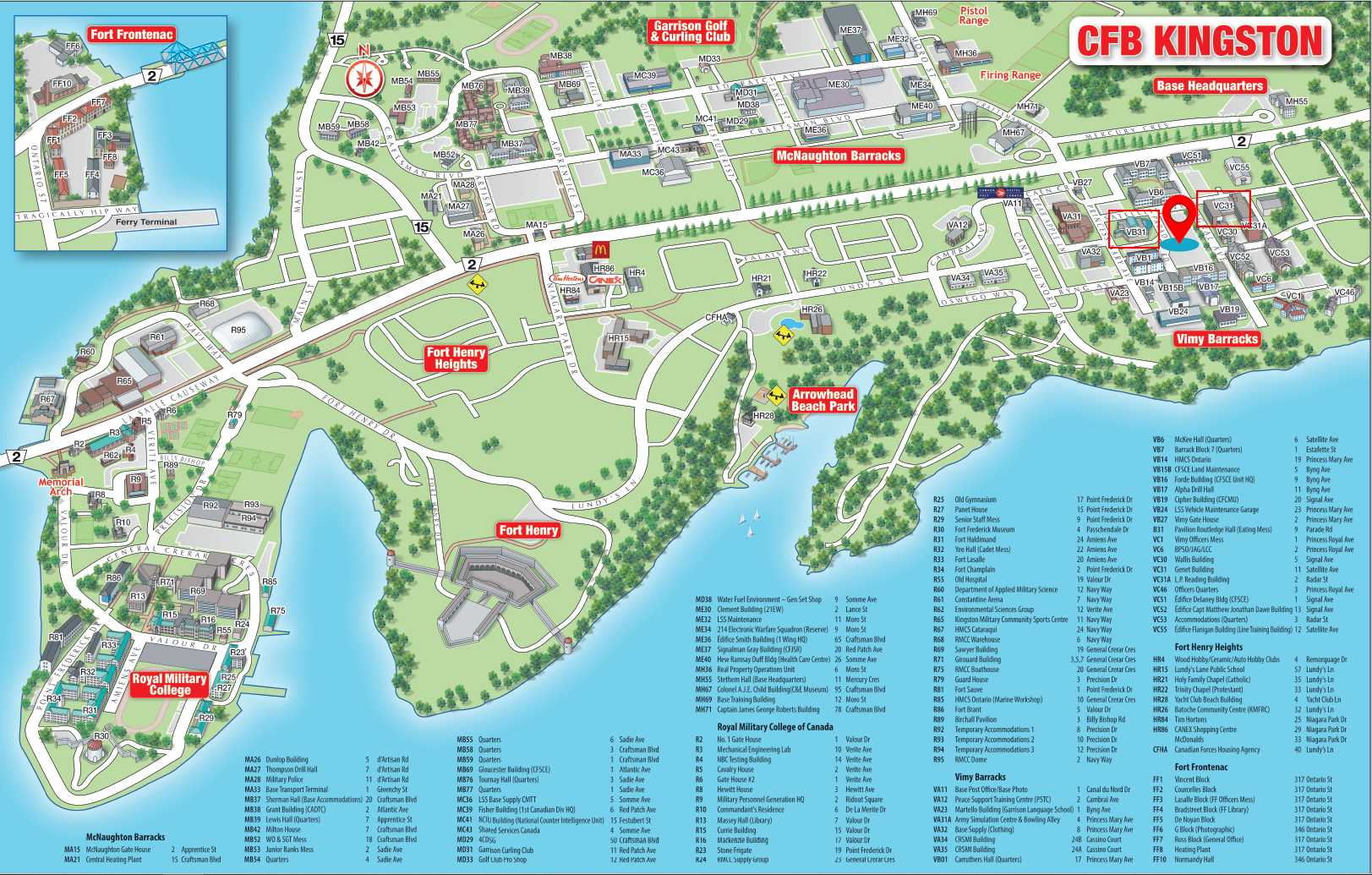 Temporary accommodations
In order to arrive at KMCSC between 1000-1200 hrs on 20 August 2023, some individuals taking their leave in distant locations may need to start their travel on 19 August 2023, or earlier. If your travel plan requires you to arrive in Kingston on 19 August 2023, you will not be permitted to enter the RMC campus ahead of the arrival window the following day. However, a limited number of temporary accommodations on CFB Kingston will be available on a first come first serve basis. These rooms are available only to cadets, not friends and families (unless the friend or family member is also a CAF member). The rooms come at a modest cost and can be reserved by emailing the following address NLT 15 August 2023.
These rooms are limited in number and may have no vacancies. There is no requirement to use these accommodations. You may also book accommodations at a local hotel or AirBnB at your own cost.
Kit List
RMC has a strict dress code where all Cadets are required to wear specific designated attire when leaving the campus. RMC will become your new primary residence and as such you will need to bring appropriate attire for all four seasons. A kit list is provided below as an example only.
Civilian clothing

| Article | Quantity |
| --- | --- |
| Seasonal jacket | 1 |
| Equivalent to Jacket, trousers, shirt and tie ensemble | 1 |
| Casual dress pants (no leggings) | 3 |
| Casual dress shirt or polo shirt | 5 |
| Casual sweater (fall to spring - no transparency) | 2 |
| Pair of casual dress shoes (comfortable) | 1 |
| Underwear complete | 6 |
| Sports socks | 6 |
| Sports bras | 3 |
| Pair of running shoes | 1 |
| Athletic T-shirt | 2 |
| Athletic shorts | 2 |
| Hair net and hairpins (optional) | - |
| Feminine hygiene products (tampons and/or pads) in sufficient quantity (if required) | - |
Other articles

| Article | Quantity |
| --- | --- |
| Water-resistant sports watch | 1 |
| Pair of shower sandals | 1 |
| Soap dish and toothbrush case | 1 |
| Toothbrush | 1 |
| Toothpaste | 1 |
| Soap bar | 1 |
| Razor with blades | 1 |
| Shaving cream | 1 |
| Deodorant | 1 |
| Shampoo | 1 |
| Backpack (plain coloured) | 1 |
| Water bottle | 1 |
| Shoe shine kit | 1 |
| Laundry detergent | 1 |
| Plastic hangers | 10 |
| Towels (face cloth, hand and bath towel) | 1 each/ch |
| Lint brush | 1 |
Military Kit List
Component Transfers, you must bring all military kit you have been issued. A kit list is reference.
Work Dress
Military Items

| Article | Quantity |
| --- | --- |
| Beret | 2 |
| Combat trousers CADPAT | 3 |
| Combat shirt CADPAT | 3 |
| Combat T-Shirt | 5 |
| Combat underwear | 5 |
| Combat socks black | 5 |
| Combat socks green | 5 |
| Pairs of combat boots | 2 |
| Cold wet weather boots (Gore-Tex) | 1 |
| ICE jacket | 1 |
| Wind pants | 1 |
| Rain jacket | 1 |
| Rain pants | 1 |
| Thermal undershirt | 2 |
| Thermal underwear | 2 |
| Bush cap | 1 |
| Combat toque | 1 |
| Kit bag | 2 |
Winter kit (required 31 Oct - 1 May)

| Article | Quantity |
| --- | --- |
| Combat parka | 1 |
| Parka bib pants | 1 |
| Boot, mukluk | 1 |
| Duffle socks, mukluk | 2 |
| Polar fleece shirt | 2 |
| Polar fleece pants | 2 |
| Suspenders | 1 |
| Insert arctic mitt | 1 |
| Shell, arctic mitt | 1 |
| Thermos canteen 1L | 1 |
| Balaclava white | 1 |
Fighting Order

| Article | Quantity |
| --- | --- |
| Helmet with cover | 1 |
| Tactical Vest | 1 |
| Ballistic Eyewear | 1 |
| Combat gloves | 1 |
| Mortar gloves | 1 |
| Bayonet carrier | 1 |
| Gas mask carrier with shoulder strap | 1 |
| Gas mask | 1 |
| Water bottle 1 litre | 1 |
| Cup canteen water bottle 1 litre | 1 |
| Water canteen 2 litres with cover and sling | 1 |
| Flashlight | 1 |
Field kit

| Article | Quantity |
| --- | --- |
| Rucksack | 1 |
| Patrol pack | 1 |
| Valise | 1 |
| Air mattress with bag | 1 |
| Utility sheet (groundsheet) | 1 |
| Bivy bag | 1 |
| Liner sleeping bag | 1 |
| Hood sleeping bag | 1 |
| Outer sleeping bag | 1 |
| Inner sleeping bag | 1 |
| Wash basin | 1 |
Distinctive Environmental Uniform (DEU)

| Article | Quantity |
| --- | --- |
| Oxford shoes (Officers only) | 2 |
| CF tunic | 1 |
| CF trousers | 2 |
| CF shirt short sleeve | 3 |
| CF shirt long sleeve | 2 |
| CF sweater | 1 |
| CF necktie | 1 |
| CF belt, black | 1 |
| CF socks, black | 3 |
| Ankle boots | 1 |
| CF raincoat | 1 |
| CF gabardine | 1 |
| CF parka | 1 |
| CF gloves | 1 |
| CF scarf | 1 |
| CF wool toque | 1 |
Air Force Personnel Only

| Article | Quantity |
| --- | --- |
| Wedge | 1 |
| Jacket, wet weather, Gore-Tex blue | 1 |
Navy Personnel Only

| Article | Quantity |
| --- | --- |
| Peaked cap, white | 1 |
| CF Hat, bowler, white | 1 |
Additional Information