Approach
The RMC Green Team provides a unique approach. This method of problem-solving and investigation not only addresses the technical issues at CF locations, but an overarching operational approach is used to assess a particular problem. This incorporates a research-based approach of monitoring, assessment, data interpretation and an optimization of management, administration, operations and maintenance (at all levels).
Objectives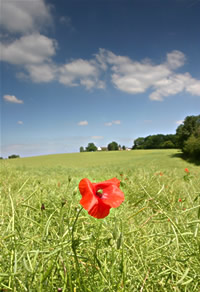 Our aim is to reduce the strain on the environmental branches, thereby alleviating some of the need for external consultants. In our experience, communication within the CF is insufficient and is one of the most important reasons for environmental inefficiencies. To address the issue, our approach focuses on sharing of skills and lessons learned within the bases and wings.
The main objectives of the RMC Green Team are as follows:
Solve common multidisciplinary environmental issues within DND;
Solve problems in-house and alleviate the need for external consultants;
Solve complex problems using a research/investigative approach;
Enhance the skills and knowledge of staff and managers responsible for environmental protection;
Develop and sustain effective partnerships with the purpose of employing tools on a DND- wide basis;
Develop in-house expertise applying area-wide programs; and
To promote DND as a leader amongst government departments in environmental protection.