Structural Engineering
Principal Faculty
Active Structures Research
Contact: Dr M-A. Erki
Geotechnical Engineering
Principal Faculty
Dr R. Bathurst
Dr. Greg Siemens
Maj Nicholas Vlachopoulos
Active Geotechnical Research
Earthquake Resistance of Geeosynthetic Reinforced Soil Structures
The use of geosynthetic reinforced soil walls that are built of dry-stacked concrete masonry blocks has increased dramatically in recent years due to their ease of construction and reliable performance under static loads. However, the stability of these types of soil retaining structures under seismic loads such as earthquakes and blasts has not been well understood. Currently, research is underway at RMC to investigate the seismic performance of segmental retaining walls.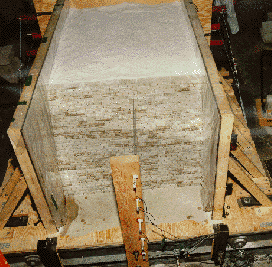 Shake table test
Model walls with a scale of 1:6 have been built and tested on a shake table which is used to simulate earthquake ground shaking. It is hoped that the research results will provide a better understanding of the behaviour of these types of soil retaining walls under seismic loads and contribute to the improvement of existing design methods.
Contact Dr R.J. Bathhurst or Dr Z. Cai
Environmental Engineering
Principal Faculty
Mr J.A. Héroux (Jean), Ming, PEng, ing
Dr M. Tétreault (Michel) PhD, PEng
Dr P. Lamarche (Philippe) PhD, PEng
Dr. D. Chenaf (Djaouida) PhD, BEng
Dr. N Vlachopoulos (Nicholas) PhD, PEng.
Active Environmental Research
assessment of aquifer parameters affecting contaminant migration (Chenaf)
investigation of mobility of fuels and lubricants in permafrost (Chenaf)
enhancement of in situ biodegradation of PAH's with nitrate releasing concrete briquettes in permeable reactive barriers (Lamarche, Héroux)
investigation of aquitard underlying a contaminated aquifer (Tétreault)
RMC Green Team (Vlachopoulos)

Past Environmental Research
laboratory scale investigation of the dissolution of residual light non-aqueous phase liquids (LNAPL) in ground water (Tétreault, Lamarche)
Current Related Activities
development of DND guidelines for DNAPL site characterization (Chenaf, Tétreault)
risk assessment of storm sewer networks (Héroux)
development of training modules for DND water treatment plant operators (Héroux)
development of DND protocol for assessment of monitored natural attenuation (Tétreault)
Past Related Activities
assessment of impact of fuel contamination at a refueling facility (Tétreault, Lamarche)
development of DND stormwater management Construction Engineering Technical Orders (CETO ) (Héroux)
investigation of chemical warfare disposal and testing sites (Héroux, Tétreault)
hydrogeological investigation of laboratory waste disposal sites (Tétreault)
hydrogeological investigation and ground water monitoring at a closed landfill (Tétreault)
assessment of environmental impact of raw wastewater discharge in the Arctic Ocean (Héroux)
detailed investigation of groundwater contamination by spilled fuels (Tétreault)
Other topics
For a listing of other Engineering research topics please refer to