The May 2021 Convocation and Commissioning ceremonies will not be broadcast live but instead a video is bieng produced to highlight the importance of this day for our graduants and their families. A link will be added when the video is available. 
November 2020 Convocation Video on Facebook
All RMC students who satisfy the degree requirements for their programme of study are invited to apply to graduate and attend the May or November Convocations.
June Convocation is held at the Canadian Forces College in Toronto and is primarily intended for CFC students completing RMC Graduate programmes at the Canadian Forces College.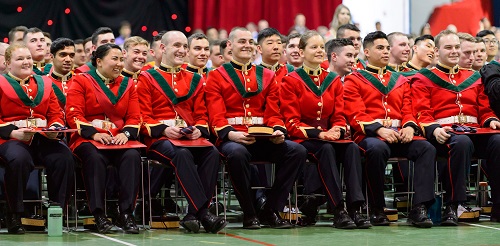 Details for each of the Convocations are as follows:
Royal Military College of Canada
Canadian Forces College
Application to Graduate
All Royal Military College of Canada and Canadian Forces College students are reminded that in order to graduate and receive the appropriate diploma you must first apply for graduation by completing and forwarding the "Application to Graduate Form" to the Registrar's Office.
If you intend to receive your diploma, you must ensure that you submit your application to graduate no later than:
Thursday 25

March

2021 for the

May

2021 Convocation (held at RMC in Kingston, ON)
Wednesday 28 April 2021 for the

June

2021 Convocation (held at CFC in Toronto, ON)
Friday 24 September 2021 for the November 2021 Convocation (held at RMC in Kingston, ON)