November 2021 Convocation Ceremony 
The RMC ceremony for Fall Convocation 2021 will be conducted in person IAW local, provincial and federal health and safety guidelines. All measures above will applied unless the Cmdt personally approves a lessening or tightening of restrictions due to local health conditions.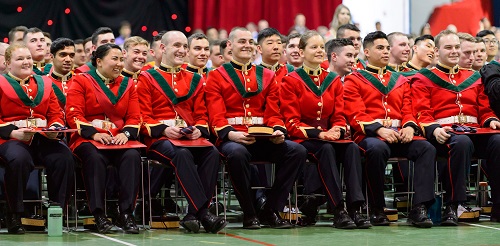 The following Public Health Measures (PHMs) will be employed to ensure the safe conduct of an in-person Convocation IAW local, provincial and federal health and safety guidelines:
Students attending convocation in-person will be limited to two guests from the same household or one guest (if not from the same household);
All students and guests must provide proof of a full set of vaccines or the proper documentation for any exemptions;
All participants (students, guests, faculty and staff) will be assigned designated seating (which will be distanced by at least 2m) and will have to agree to remain in their seat locations in order to participate;
Masks will be worn throughout the ceremony by all participants, except for speakers at the podium, the location of which will ensure a minimum of 2m distance from others;
Once students and/or award recipients are in place and are socially distanced by at least 2m, they may remove their masks for photos provided they return to being masked before moving on;
All students will enter Currie Hall having already placed their academic hood on themselves and carrying their degree in their hand; and
For the presentation of awards, the Registrar will place a table in the middle of the stage while being masked and wearing gloves. He will then place each award on the table so the recipient coming onto the stage can stand behind the table, and being socially distanced by at least 2m between the Cmdt and the Principal, remove their mask, pick up their award, pose for a photo, return their mask and then depart the stage with their award.
Videos
Convocations
All RMC students who satisfy the degree requirements for their programme of study are invited to apply to graduate and attend the May or November Convocations.
June Convocation is held at the Canadian Forces College in Toronto and is primarily intended for CFC students completing RMC Graduate programmes at the Canadian Forces College.
Details for each of the Convocations are as follows:
Royal Military College of Canada
Canadian Forces College
Application to Graduate
All Royal Military College of Canada and Canadian Forces College students are reminded that in order to graduate and receive the appropriate diploma you must first apply for graduation by completing and forwarding the "Application to Graduate Form" to the Registrar's Office.
If you intend to receive your diploma, you must ensure that you submit your application to graduate no later than:
Thursday 25

March

2021 for the

May

2021 Convocation (held at RMC in Kingston, ON)
Wednesday 28 April 2021 for the

June

2021 Convocation (held at CFC in Toronto, ON)
Friday 24 September 2021 for the November 2021 Convocation (held at RMC in Kingston, ON)