Geographically Lake Ontario was landlocked because of rapids in the St Lawrence River down-stream and the Niagara Escarpment at the west end of the Lake. Yet during hostilities, the strategic importance of it immediately produced, for both sides, a monumental struggle for naval control. At first only small local merchant ships were converted for war purposes. But with the United States clearly intending to augment its warship construction at the new Sackets Harbor naval base just across the lake, the Anglo-Canadian forces here at the Royal Naval Dockyard, Kingston laid down the keel of HMS St. Lawrence on 12 April 1814, and she was launched 156 days later.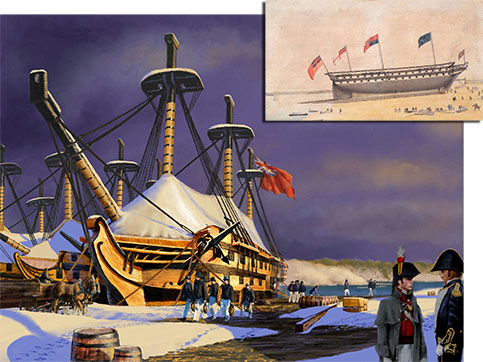 Painting showing HMS St. Lawrence tied up for the winter of 1814-1815 at the pier in Navy Bay. Painting courtesy of the artist, Peter Rindlisbacher. Inset is a contemporary painting of the launching of HMS St. Lawrence, clearly illustrating her size in comparison to workers and onlookers; with permission of the Royal Ontario Museum © ROM.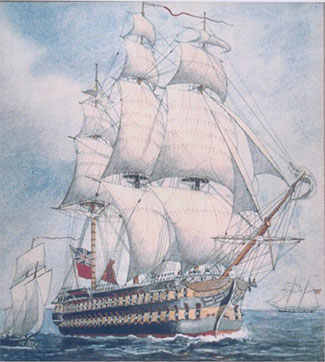 Painting, by C.H.J. Snider, showing HMS St. Lawrence on lake patrol with two smaller ships, one on either side.
A first rate ship of the line, she carried 112 guns, was 194 feet long, and displaced 2,304 tons. Commodore Yeo made her his flagship and appointed Captain Frederick Hickey as Flag Captain. During the war, control of the lake passed back and forth between contending forces. But in its final months the Anglo-Canadians held sway. While St. Lawrence never saw action, her sustained and powerful sailing presence and the success of this Royal Naval Dockyard, with two more first rate ships in the stocks, denied the enemy lake dominance and secured the vital supply and communications routes west.
Walking Tour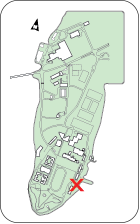 Panel 2 is located beside the walking path at the foot of General Crerar Crescent. It is sited to view the St. Lawrence Pier. During the period the pier was in the same location. You can see the protection that could be provided from batteries on Point Henry, to the east.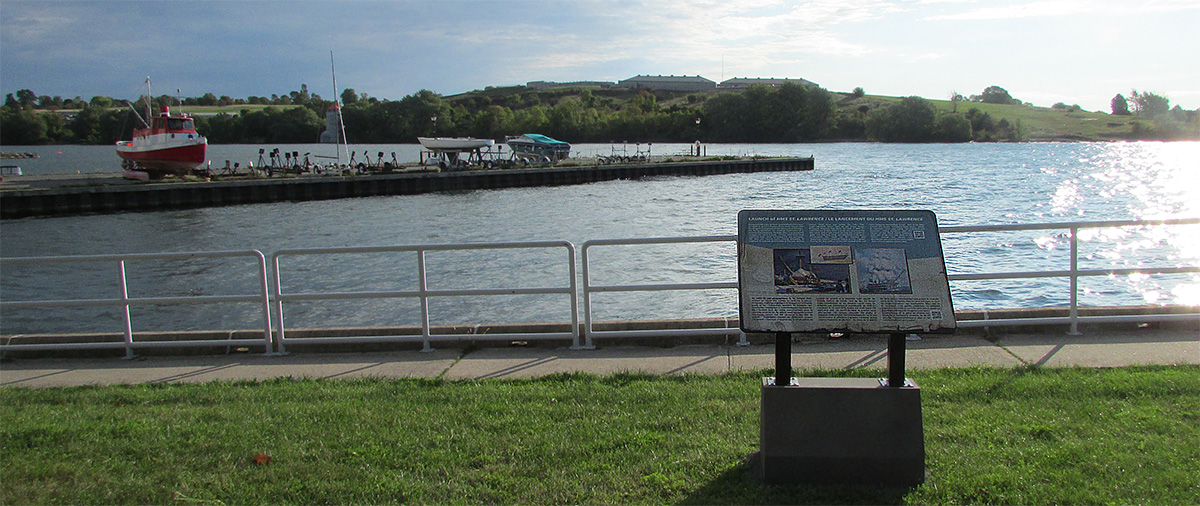 Panels navigation