The main collection relates to the history of RMC and the service of it's ex-cadets but the Museum also holds a small collection of material relating to the Point Frederick Dockyard and the Royal Navy. Take a tour in our Gallery to view some of these artifacts.
In addition the Museum holds the Douglas Arms Collection and the Leinster Plate. Some examples from these collections can also viewed in the Gallery.
Douglas Arms Collection
This collection of arms was amassed by General Porfirio Diaz, President of Mexico, in the period 1870-1880 and 1884 to 1911. It consists of over 400 pieces, many of significance. The Collection was purchased in 1938 from the Diaz family by ex-cadet, #249 Walter Douglas, who acquired it specifically for RMC.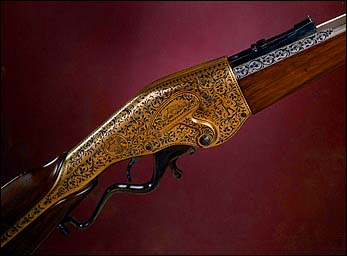 Evans New Model Carbine (circa 1877). One of the finest existing specimens of an engraved Evans carbine. This piece was probably presented to Diaz by the New York firm of Merwin & Hubbert Co., the major sales agents for the Evans Company.
Walter Douglas attended RMC from 1887 to 1890 but, in order to join his father's mining company, withdrew to attend the Columbia School of Mining in the United States. Douglas held various positions in this company which grew to became the Phelps Dodge Corporation. He served as it's President from 1918 to 1930. On retirement from Phelps Dodge, Douglas became Chairman of the Southern Pacific Railway of Mexico and it was at that time that he acquired the Diaz collection.
Douglas was a wealthy man and, like his father before him, he was known for his philanthropy. Douglas Library at Queen's University in Kingston (until recently the main library on campus) was built from a donation by Douglas, Snr.
Leinster Plate
This collection of British Regimental silver of the 100th (Royal Canadian) Regiment and later the 1st Battalion, The Prince of Wales's Leinster Regiment (Royal Canadians) is unique in Canada.The silver was accumulated for use in the officers' mess from time of the raising of the regiment in Canada in 1858 to its disbandment in 1922. On disbandment the officers of the Battalion decided to give their silver, in trust, to the Government of Canada. The Government in turn has placed the collection, in trust, with the Commandant of RMC. Some choice pieces are on display in the Museum but the majority of the collection can be found in the College's Senior Staff Mess.