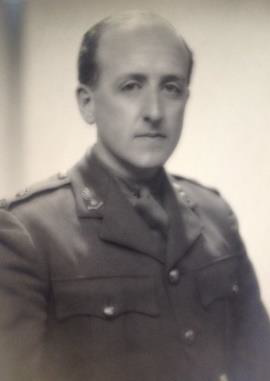 1908 – 2005
Ted Beament was born in Ottawa and studied at Lisgar Collegiate Institute.  He expressed an early interest in becoming a lawyer in his father's law firm but was encouraged to join the military.
He attended the Royal Military College and graduated in 1929 at the top of his class where he won more than half of the total prizes awarded that year, including the Governor General's medal.  Soon after, Ted joined the militia as a member of the 30th Field Regiment "Bytown Gunners".  An accomplished athlete in skiing, gymnastics and figure skating, he was a member of the 1930 Canadian National Fours figure skating championship team.
In 1930, Ted joined the 25th Field Battery as Second Lieutenant in the militia and, by 1938, was promoted to Major and named Commanding Officer. To pursue a career in law, he enrolled at the University of Toronto where he completed his engineering degree and continued on to law studies at Osgoode Hall.  Ted was called to the bar of Upper Canada in 1934 and joined the family firm in Ottawa.
On the eve of war in 1939, Major Beament volunteered for active service as Officer Commanding the 2nd Field Battery, RCA, and was posted with his unit to the UK in August 1940.  He served as an artillery officer and as a senior officer on the Canadian General Staff. He later met and married Brenda Thoms.
Major Beament was promoted and appointed to several roles during the early years of the war before being assigned to Headquarters, First Canadian Army in 1943.  As a General Staff Officer Operations (GSO1), he was a key planner of Canada's participation in "Operation Overlord" and landed with the Canadian General Staff at Juno Beach a few weeks after D-Day, serving throughout the Battle of Normandy and the campaign in Northwest Europe.
In July 1945, Beament was promoted Brigadier and appointed Commandant and President of the Khaki University of Canada, an institution in England run by the Army and designed to prepare Canadian military personnel for post-war careers while awaiting repatriation.  Brigadier Beament hosted many VIPs including King George VI and Queen Elizabeth, High Commissioner and future Canadian Governor General Vincent Massey, Field Marshal the Viscount Alexander of Tunis and Field Marshall Montgomery. In 1946, he returned to Canada with his wife and young family.
Brigadier Beament's military honours included Officer of the Order of the British Empire (OBE), la Croix de Guerre avec Palme, the Netherlands Liberation Medal, the Czechoslovakian Order of the White Lion (3rd class), the Czechoslovakia Military Cross and the Czech Republic Military Cross. He was also Mentioned in Dispatches.
He continued his engagement with the 30th Field Regiment, enjoyed summer training exercises in CFB Petawawa for many years and served as Honorary Colonel for six years in the 1960s.  Brigadier Beament is commemorated at the Bytown Gunners' Regimental Museum in Ottawa and the Juno Beach Centre at Courseulles-sur-Mer in Normandy.
Following the war, Ted practiced law in Ottawa and remained active in community and volunteer organizations, such as Commissioner with the Federal District Commission from 1961-66 and as Chancellor of the Order of St. John in Canada.  He made significant contributions to society through his voluntary work with the YMCA, United Way, the RMC Club, United Services Institute, Carleton University, Corps of Commissionaires, the Bytown Gunners' Senate, the Carleton County Bar Association and numerous charities. In 1995, in recognition of his contributions to the Order of St. John and St. John Ambulance in Canada and internationally, Ted was appointed as a Bailiff Grand Cross of the Order. He was made a Member of the Order of Canada in 1987.
As a Bencher of the Law Society of Upper Canada, Ted was driven by the need to ensure that justice be available to all and to inspire young members of the profession.  He was awarded an Honorary Doctorate of Laws (LLD) from RMC in 1984 and the Law Society Medal in 1987 for his work in establishing legal aid in Ontario.
Shortly before he died in his 98th year, Ted successfully campaigned at both provincial and federal levels for the right of veterans and their spouses to be housed together in the same long-term care facilities across Canada.
Ted was predeceased by his wife, Brenda, and is survived by son Justin, daughter Meriel, 5 grandchildren and 11 great-grandchildren.
Plaque Inscription
Athlete, Soldier, Advocate, Volunteer